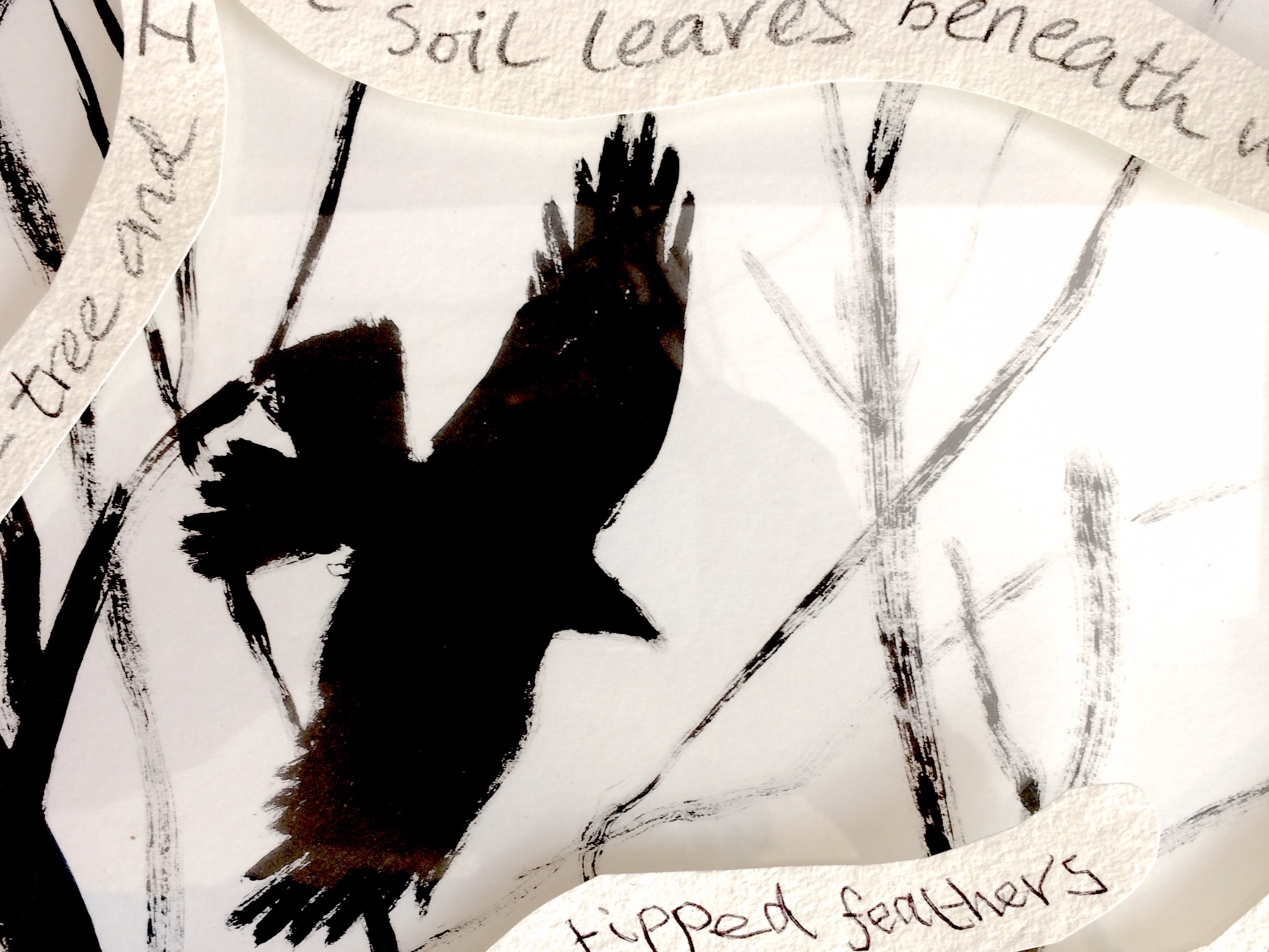 I've always had a passion for words and a love of language, and I've written for personal enjoyment and had work published over the years, as well as copy writing, editing and publishing as part of job roles in arts and media. (I even 'published' 8 or 9 editions of my own 'magazine' when I was 11 or 12!)
I'm a regular contributor and occasional guest co-editor on Sally Crabtree's Poetry Postie FM radio show; I contribute regularly to The Daily Haiku; and,
as writing becomes increasingly central to my current artistic and creative work, I'm really excited to be embarking on an Arts Council England-supported 'Developing Your Creative Practice' immersive writing project that will run until late 2021.
Words On The Wing

Inspired by our incredible birdlife during lockdown and COVID, this lovely
ARTiculate
migratory and story arts project, kindly supported by
Arts Council England
, has offered artists and members of the public the chance to receive, enjoy, create and share artworks in a whole range of inventive ways.
Having conceived the original idea for the 'migratory' art element of the project, I've really enjoyed creating new pieces of work like the one here, combining poetic writing with hand-drawn imagery, and posting the original works out to friends and to strangers alike. M
igratory art works have been posted out as gifts to hundreds of project participants and given to children in 6 primary schools and a school hospital setting, in North Cornwall and on the Isles of Scilly, along with blank project cards & pre-paid postage so they can create and share their own work with others in turn.
The resulting work has 'migrated' as far as Russia, parts of Europe, the USA, Asia, New Zealand and Australia; i
t's been a wonderfully connecting arts project that has cascaded through our communities, helping people to feel more in touch and less isolated.
ARTiculate is hoping to publish some of the work in a shareable form as well as using it as inspiration for a bigger project linking Scilly and North Cornwall in spring 2022... m
ore info on the ARTiculate website.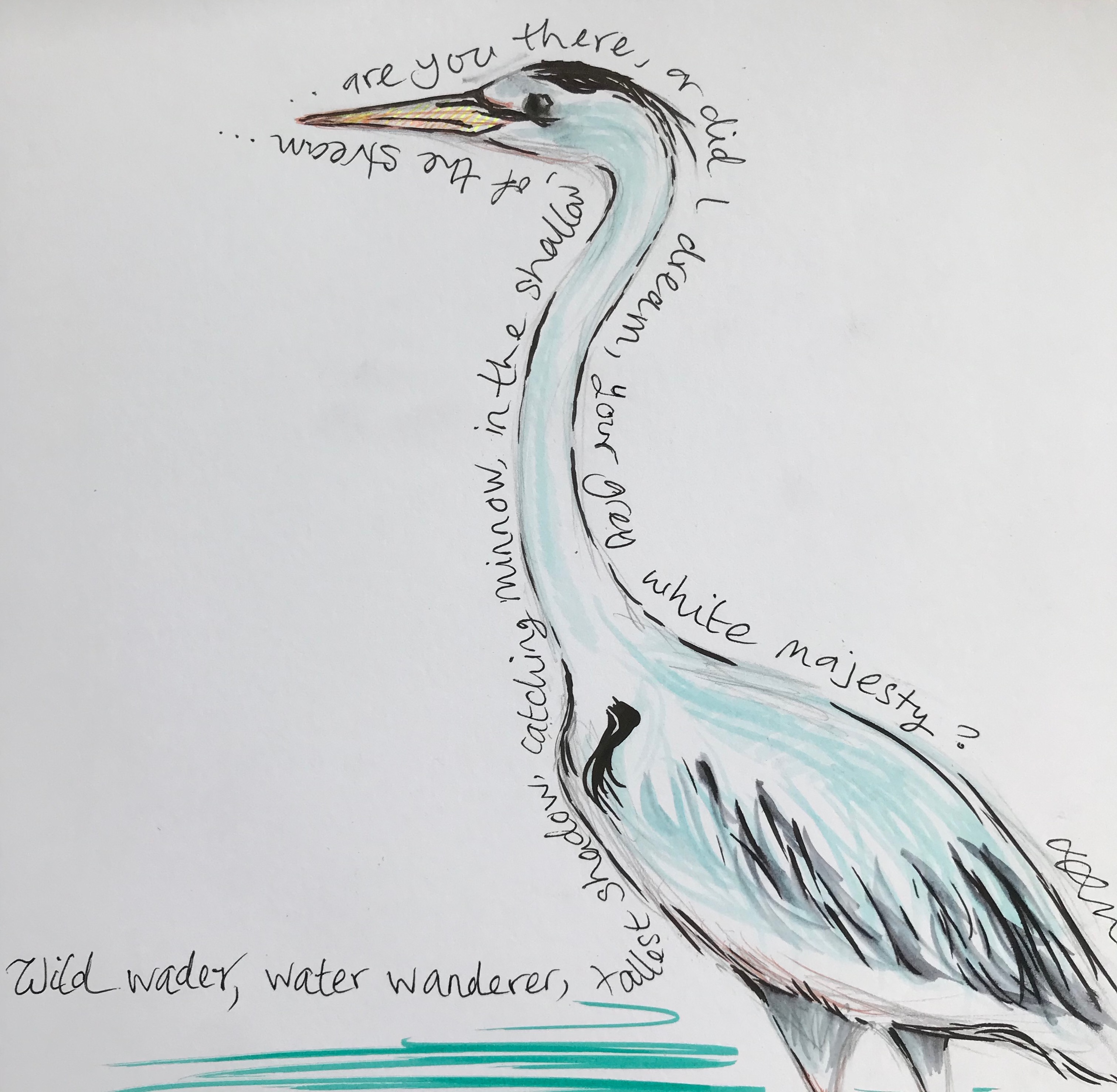 The Mermaid and the Ice Cream Man

As mum to a toddler and a tiny new baby in 2014, I wrote and published a children's title, working with young illustrator Jenny Simmons whose lovely work is pictured here. I rewrote the story in rhyming verse from a short film script I had written, and my film storyboard also offered the starting points for Jenny's visuals. We published the title with 'Little Bird Loves...Books' and I've been invited to do book readings and Q&As with it in schools and at various community events including several Polzeath Marine Discovery Days.
During lockdown, Cornwall College's LAUNCH drama department asked permission to use the text as a story for the students to recreate, using video segments filmed in their homes, and edited into their final assessment.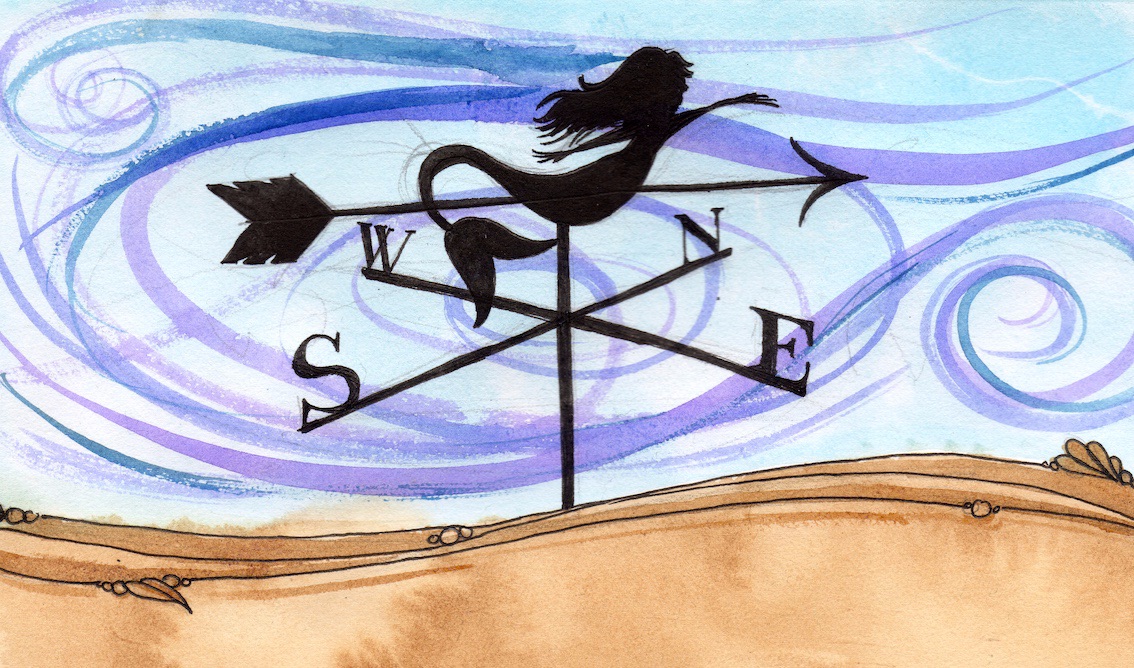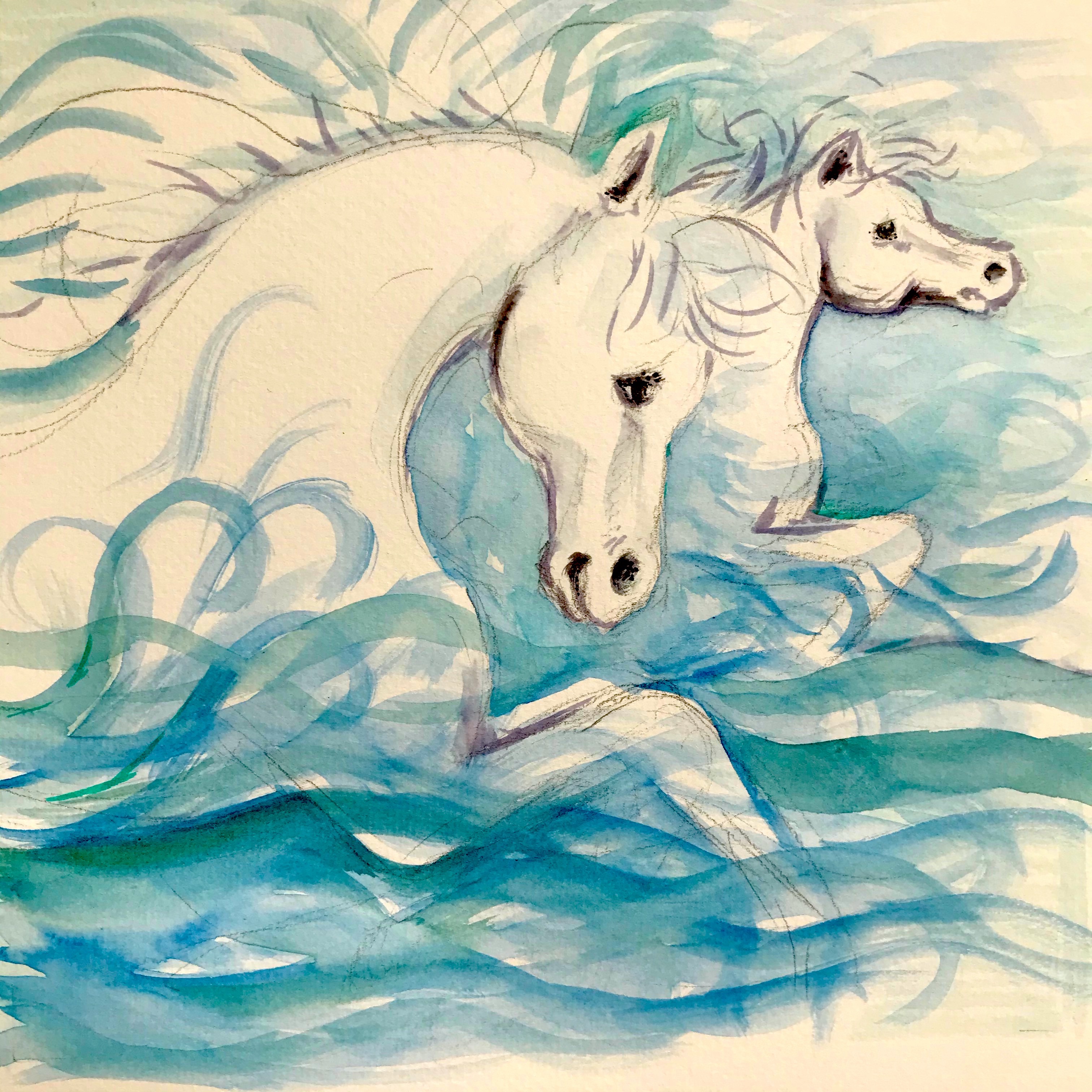 The Wild White Horses of Treasure Bay
A final draft is ready, and a series of illustrations are now getting under way, for a new children's title, The Wild White Horses of Treasure Bay, which I'm hoping will be ready for publication soon.
Cornwall College LAUNCH programme again asked permission to use this material for their exciting film & animation summer school.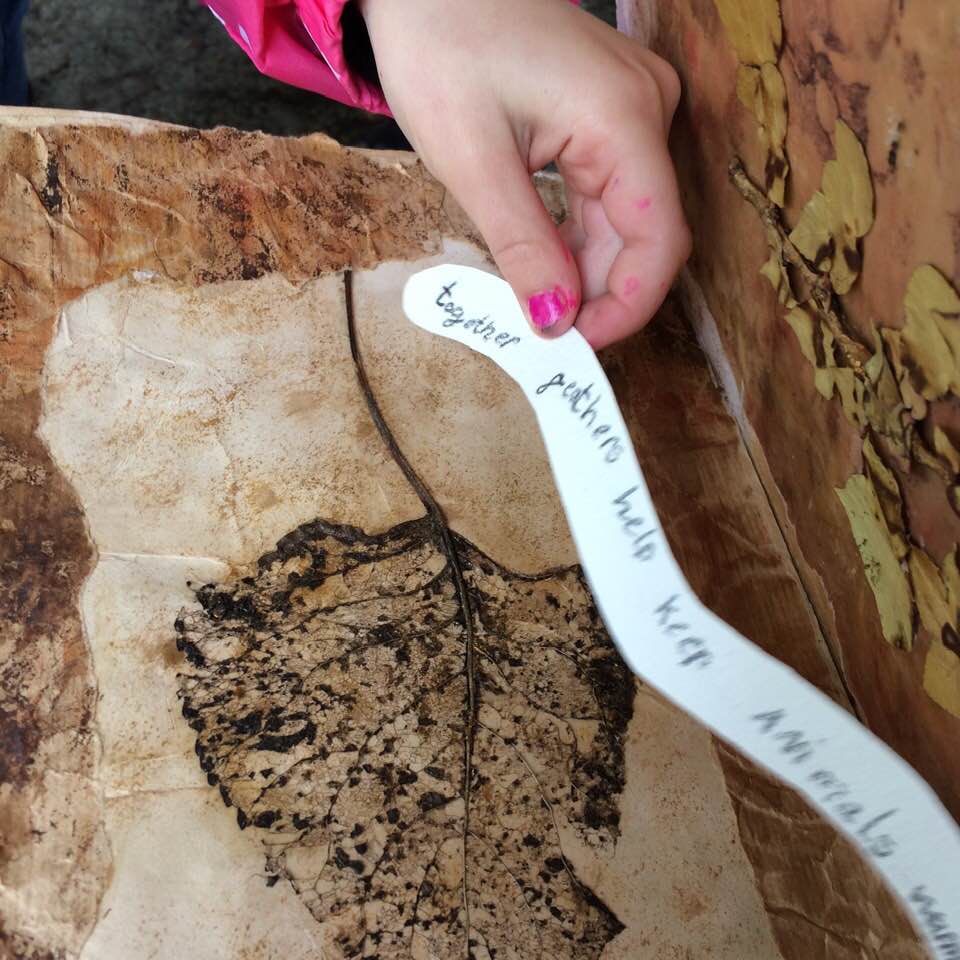 The Early Bird and her Word Worms
Recently developed character, the
Early Bird
brought her roving mini-poetry
Word Worms
workshops to Cardinham Woods as part of the first
Words in Woods Festival
run by
KEAP
and
IntoBodmin
in April 2019.
The Early Bird's roving workshop 'depot' is a set-up on the back of an old-fashioned sit-up bicycle, and it proved very accessible roaming through the woods: around 80 visitors of all ages from 2 to 82 enjoyed creating their very own mini-poetry 'Word Worms', inspired by the trees, birds, sky and wild places in the woods, plus the incentive of a chocolate egg from the Early Bird's nest! They could then choose to either take their Word Worm poem home - or transform it into a Book Worm for the Early Bird to look after in her special book!
Birds and Stars!
I conceived and ran a series of creative word/art workshops as part of the Dark Skies: Bright Stars project with
Mayes Creative
and other partners during 2018.
Brilliant Birds and Marvellous Migrations! workshops in St Ives and Penzance Libraries saw participants of all ages inspired by the incredible migratory journeys of our native birds to create collaged works using printed words and fragments of text, poetry and old maps.
The
Galleon PinARTa
and its accompanying workshops at
Sea Salts & Sail
in Mousehole inspired visitors all about stars and maritime navigation, in what was also a collaborative, commissoned project with poet & author
Sally Crabtree
. Participants wrote poetry and created mini works of art, which were popped into the Galleon PinARTa with sweets, before the bashing and sharing of the goodies at the end of each festival day!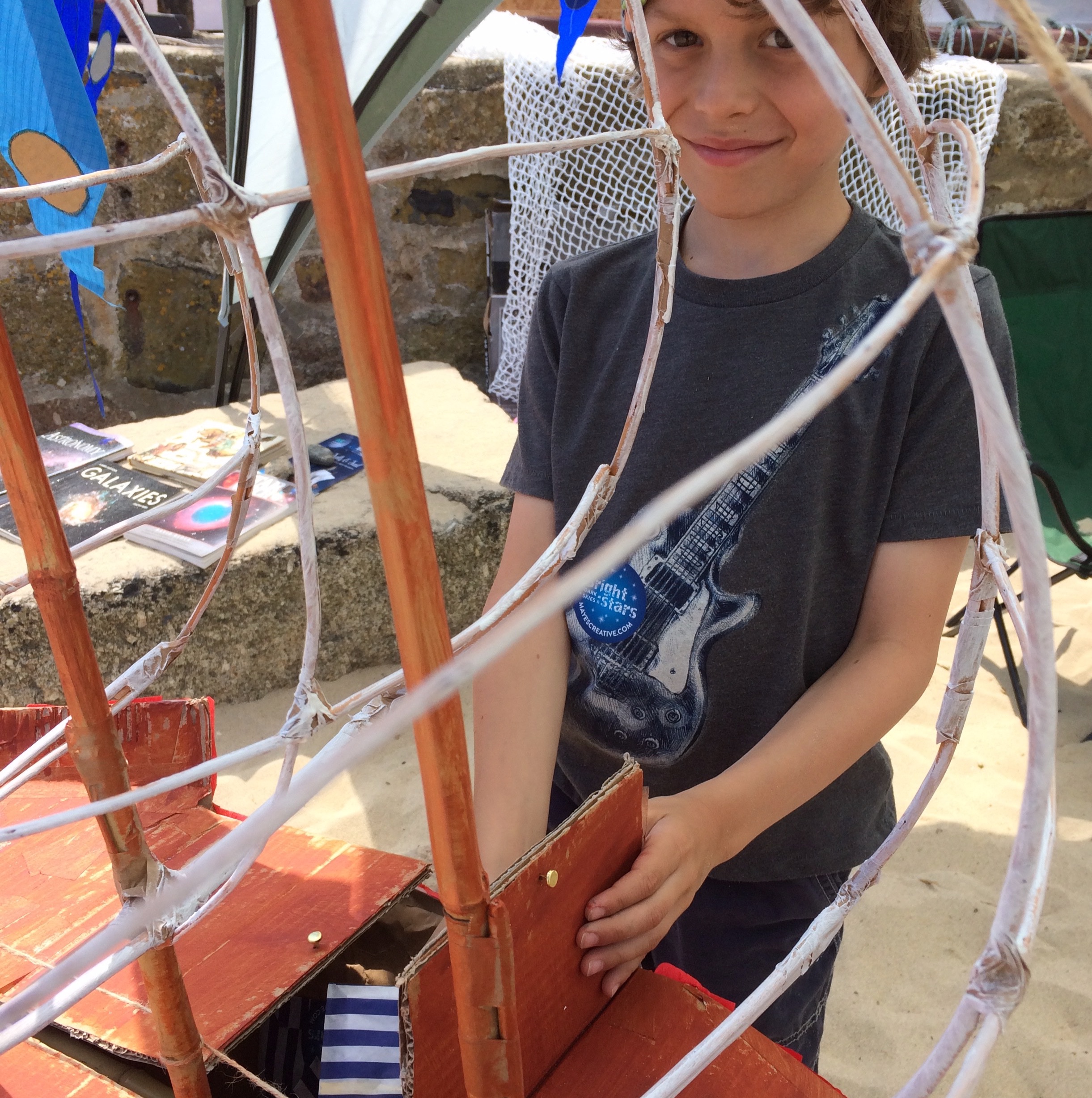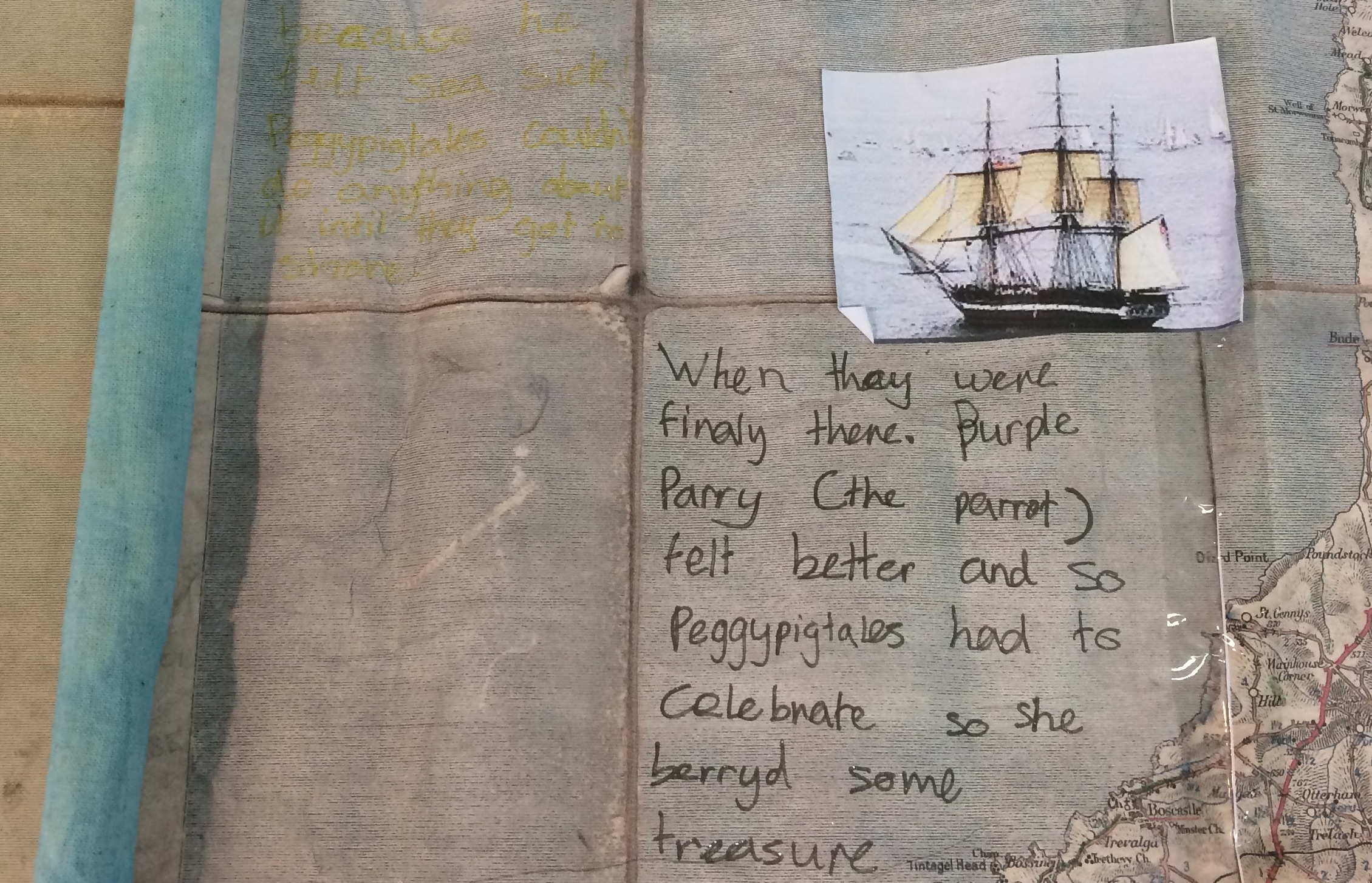 Story Box with Endelienta
I was approached by
Endelienta
in 2017 to come up with a series of creative writing workshops as part of their
North Cornwall Story Box
project. I ran a specially-organised after-school club at St Minver School, initially just with the children and then later on bringing in St Minver 'Open The Book' adults to co-create stories in intergenerational pairs. These sessions led to some lovely visual story outcomes, with an exhibition of the finished works, and a community Story Box drop-in workshop for members of the public at Cornwall's Regimental Museum in Bodmin in spring 2018.