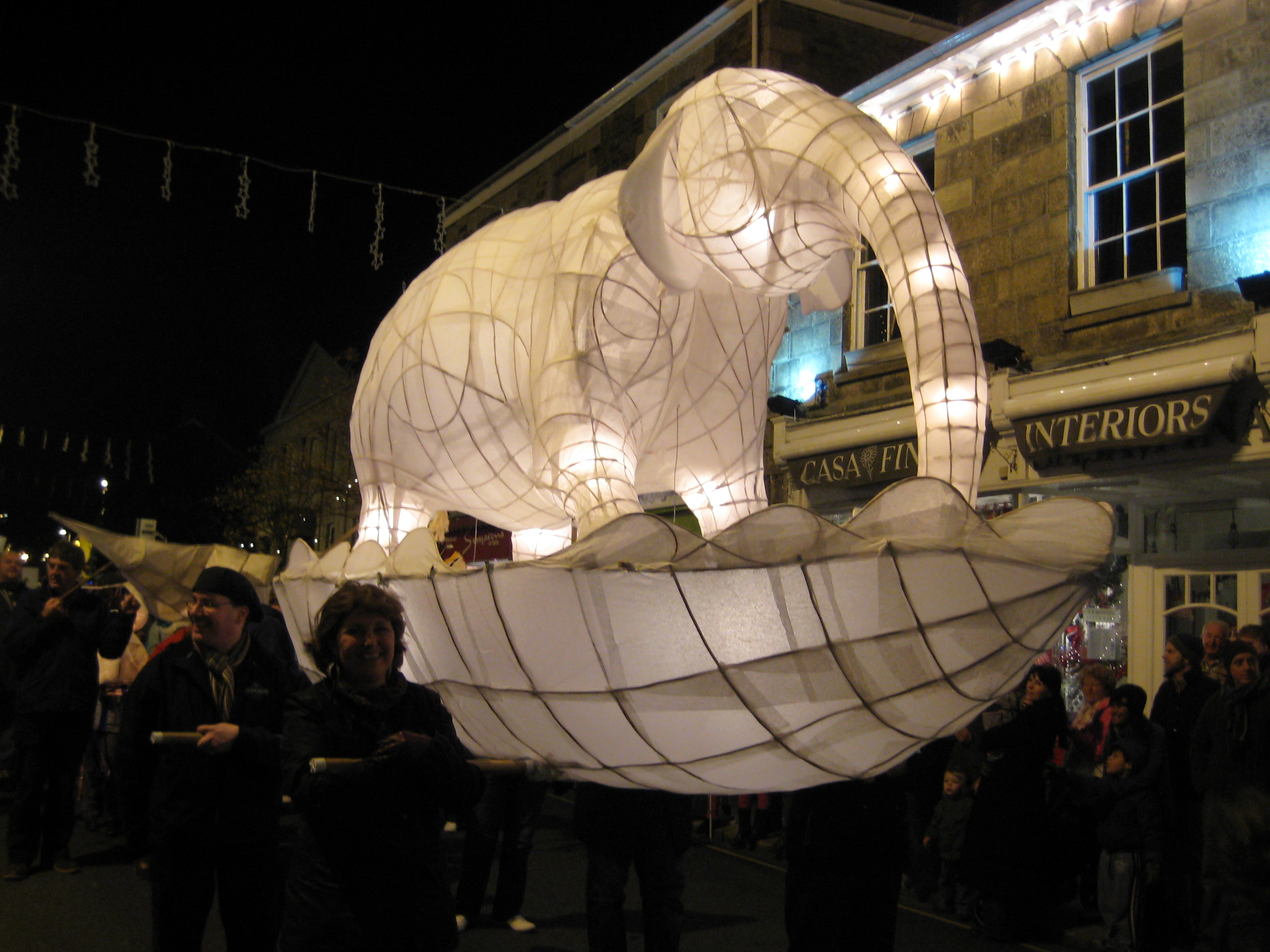 Background & training
I grew up in coastal and rural North Devon, and in primary school was very lucky to have a professional visual artist as my class teacher; since early childhood I've always sketched, photographed, created and painted, whatever else was going on in life. After A levels, I took a BTEC Diploma in Art & Design, and then did the first year of a combined Dance & Art BA Hons at Crewe before completing a BA Hons in Theatre & dance at Dartington. Every course I did included a photography module - even the Theatre degree!
Sculpting and large 3D
As a young teenager, one winter I built a life-sized horse out of snow with my sister: my first taste of sculpting at scale.
A founder and Core artist with ARTiculate since 2012, my first large willow work was a trial commission for City of Lights in 2009 (the elephant, above): a brilliant insight into the joys & challenges of large lantern builds, and the first of four large lanterns I've created for the Truro parade. I've also created bike-based cycling lanterns, animals and animated figures, large themed piñatas, monsters and dinosaurs, nests and tallships, giant boobs, baubles and beasts, for a host of festivals, events and films.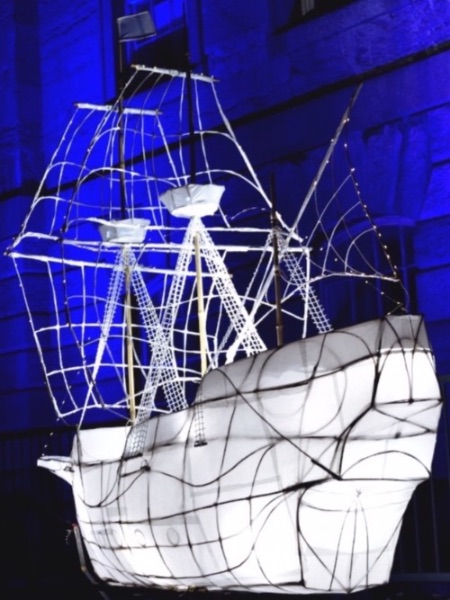 2D, mixed media & photography
I've worked and played in many media: on canvas and wood, in oils and acrylics, with found objects such as slate, feathers, bits of clock, metal leaf and more. I've exhibited & sold privately and at various venues and exhibitions; and was selected to represent Cornwall at the 39th Festival Interceltique de Lorient, Brittany, along with one other female artist in 2009, and again at Le Temps Du Sirens international Biennale of women artists in Brittany in 2010. I tend to share my photography on
Instagram
.
Workshops and approach
I offer a diverse range of hands-on workshops and creative opportunities for all ages, and I believe in the importance of celebrating and fostering creativity along with a sense of wonder in all our lives. It's inspiring when art opens a new door for someone; I know that time spent immersed in seeing and making art opens up new possibilities, challenges our preconceptions and helps us forge stronger, more connected, happier communities: ones that are also more resilient to change.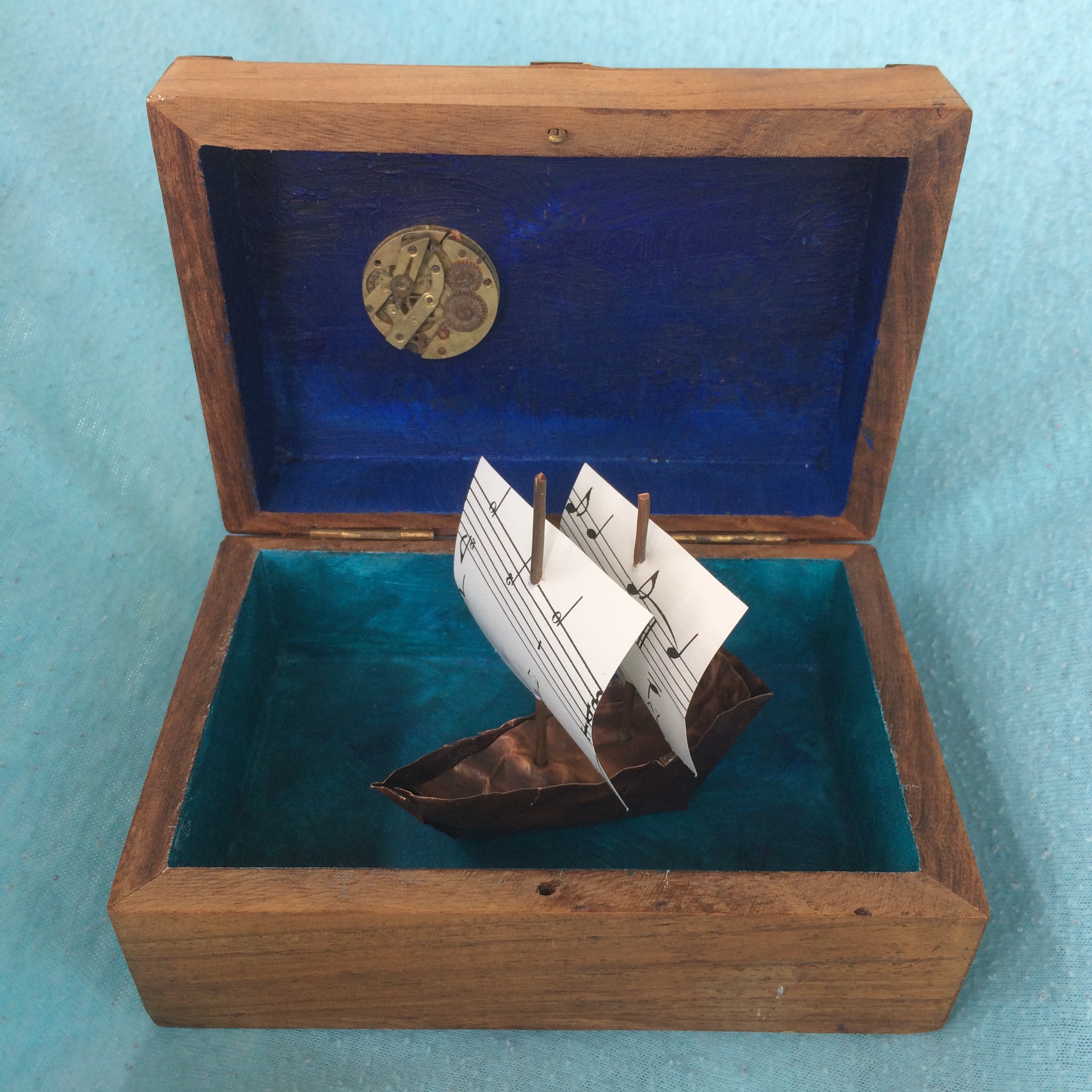 builds, commissions, visual arts projects - in no particular order!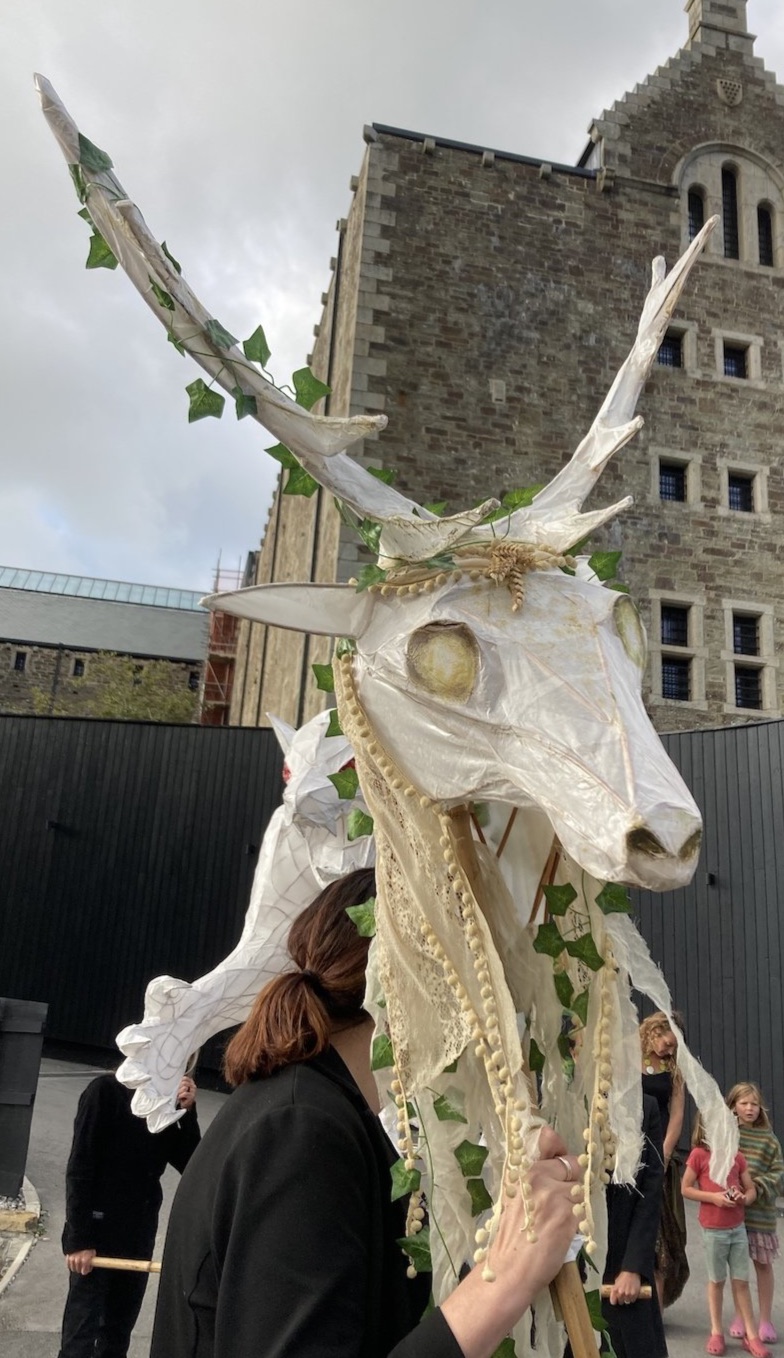 Beast of Bodmin Carnival 2023
The first ever Beast of Bodmin Carnival
took place on the August 2023 Bank Holiday weekend,
with
a host of entertainments including lanterns and makes by willow artist Jasmine Fassenfelt and myself. As a commission from
Bodmin Jail
Attraction and Museum, w
e
conceived
and created nine 'DeadHeads' -
corpse-like
animal-head lanterns, inspired by the Mari Lwyd horse figures of Cornish and Welsh folklore.
I also designed and produced a giant, illuminated Beast of Bodmin, who remains at the Jail Museum and is set to reappear in public again at Hallowe'en. We hope this kicks off what will become a magical and inclusive new annual event for the town of Bodmin!
Luxulyan Feast Week & Carnival 2023
Inspired by their brilliant WWII topic in school, the whole of Years 5 & 6 at Luxulyan Primary School once more worked with me to design and create a large willow make for their local Carnival & Feast Week at the end of June. We started with a pile of sticks, a rough drawing and a tape measure on the Monday morning; the stunning end result was an incredible 3m-wide Supermarine Spitfire aircraft, which quite rightly won them Gold in their category on the day, with the whole two-year group and teachers accompanying the aircraft dressed as pilots, land army girls, spies and more!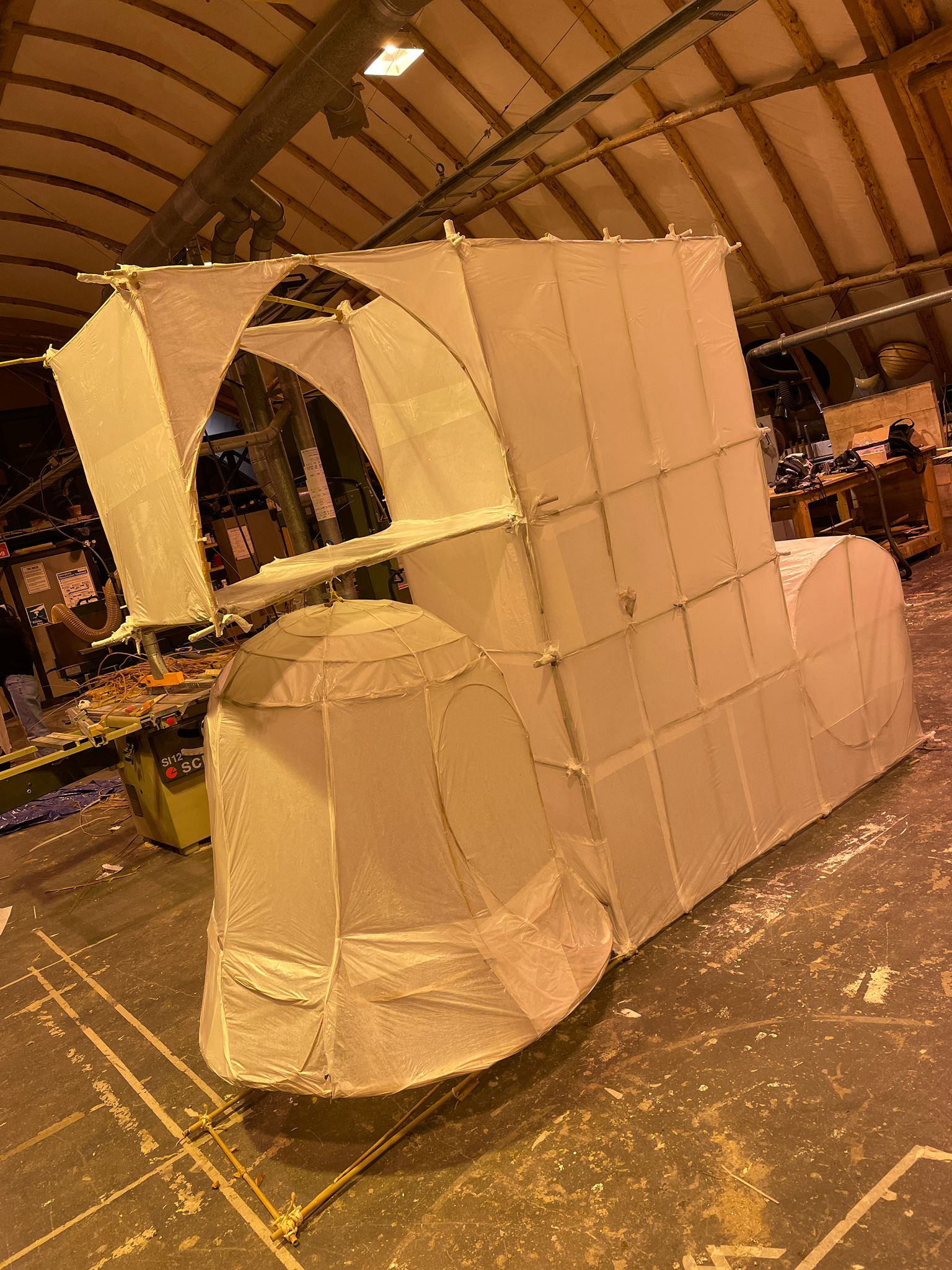 3D construction with the Architectural Association School Foundation
Leading my first ever module on 3D light & scale construction techniques with the international Foundation cohort at the Architectural Association School of Architecture in London and Dorset, we
interpreted 2D drawings of 3D fragments of the built environment in Prato, Italy, gathered during a student visit there in October. In

London

we worked in willow & tissue to create 1:10 scale maquettes of these fragments, before moving to the AA's woodland campus at Hooke Park to create the same shapes at 1:1 & 1:2 scale. Using bamboo and Chinese knotting techniques, the resulting
impressive at-scale
paper light works were burned during a
ceremonial ritual event
to commemorate the life of
Chiyan Ho,
a talented young AA team member who died recently.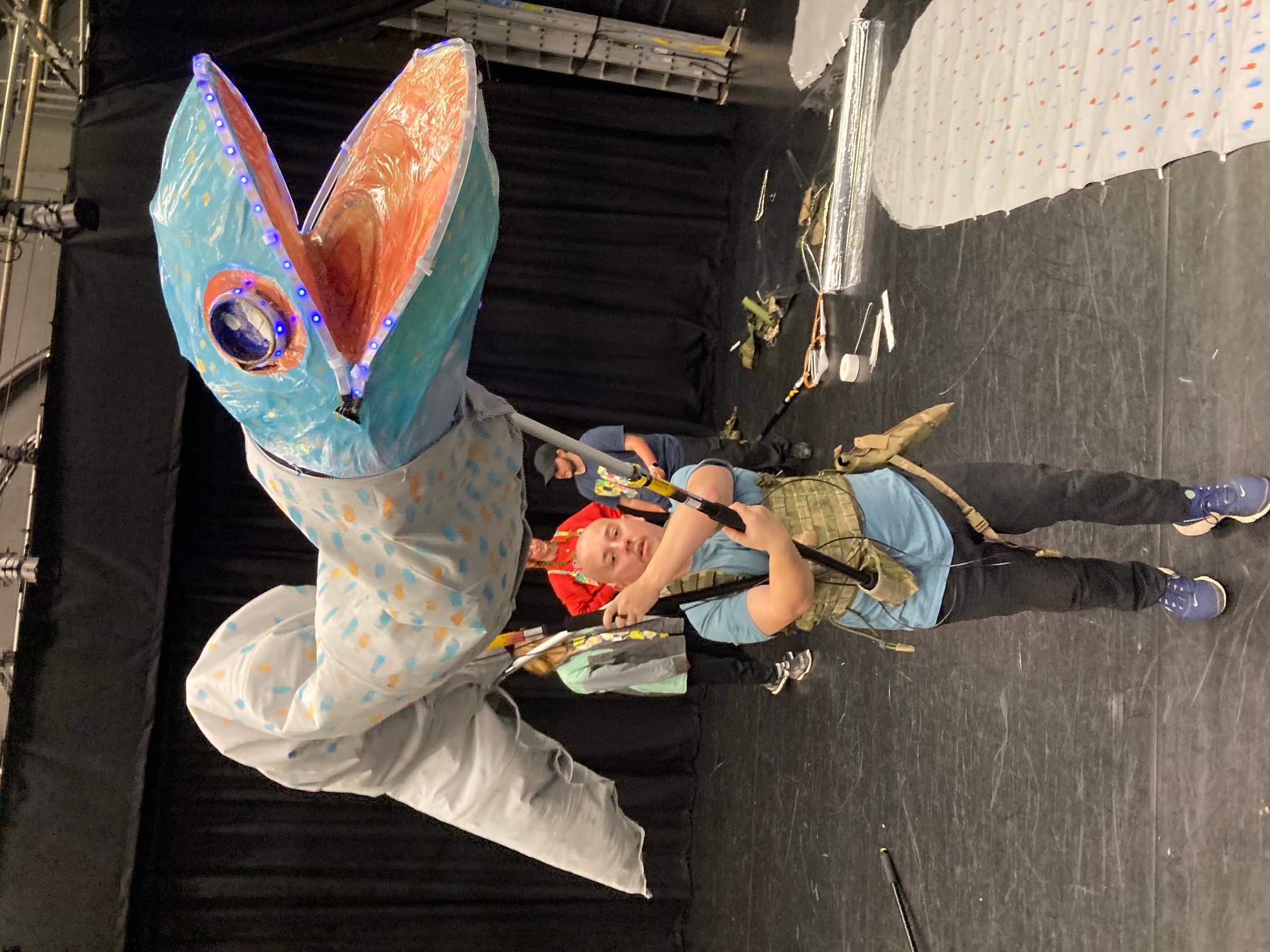 Electric Eeels for the Barbican Plymouth
A commission to create three single-operator giant electric eel puppets for the Barbican Theatre sparked off some lovely new collaborations in autumn 2022
with Laura Kriefman, Suzie West, Jamie Smith and the Barbican team. Together we co-designed, created, animated and lit three new cheeky eel characters, in time for the Plymouth festive lights switch-on at the end of November 2022. The eel trio incorporate interactive sound-responsive LED lighting, and opened up some experimental techniques for us all in the design, making and rigging.
A trained puppeteer team is now ready each time the eels are asked out on a date! Anyone can
hire
them out for special events - and they pack down and fit into a small car for easy transportation!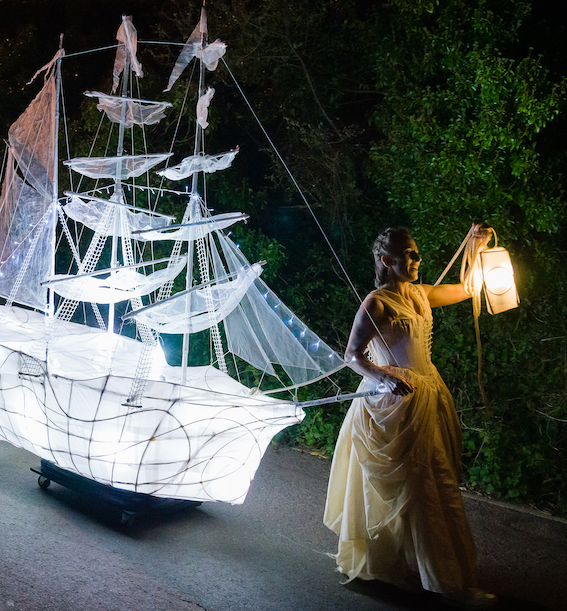 Time & Tide (in development)
This is an ambitious tallship concept that develops on from my work for Kneehigh in 2021 (The Hoss's Lament, below). Part build, part performative musical & vocal narrative touring work, and part almanac / published outcome, this complex piece will explore our age-old and ever-changing relationship with the sea and the tides; it articulates untold women's stories; and it will appear on the very highest tides each month in a different village, town or city with maritime connections.
A 4-5 date pilot in Cornwall will precede a SW region & wider UK tour hopefully in 2024, funding permitting
,
from Cornwall, up through Devon & North Somerset to Avon, London and beyond.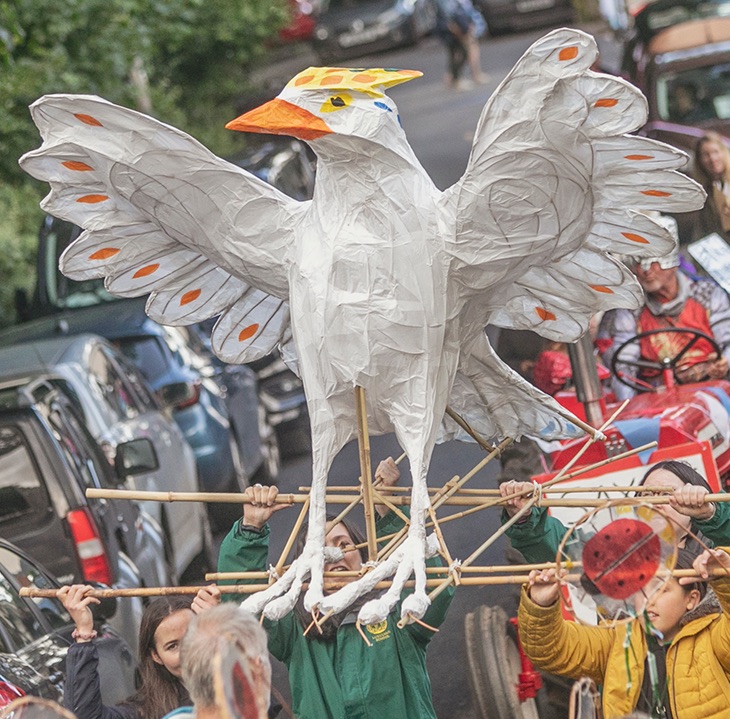 Luxulyan Feast Week & Carnival 2022
The whole of Years 5 & 6 at Luxulyan Primary School worked with me to recreate a large willow figure for their 25th June Carnival & Luxulyan Feast Week, depicting the golden bird that appears in a special stained glass window in their local church. Every child in the school also created their own beautiful carry-makes (dream-catcher meets stained-glass window, complete with streamers!), depicting objects, leaves, mini beasts, animals and other imagery from the natural world. Many of these were inspired by the children's work on their
Nature Journals
as part of Schools For All Seasons.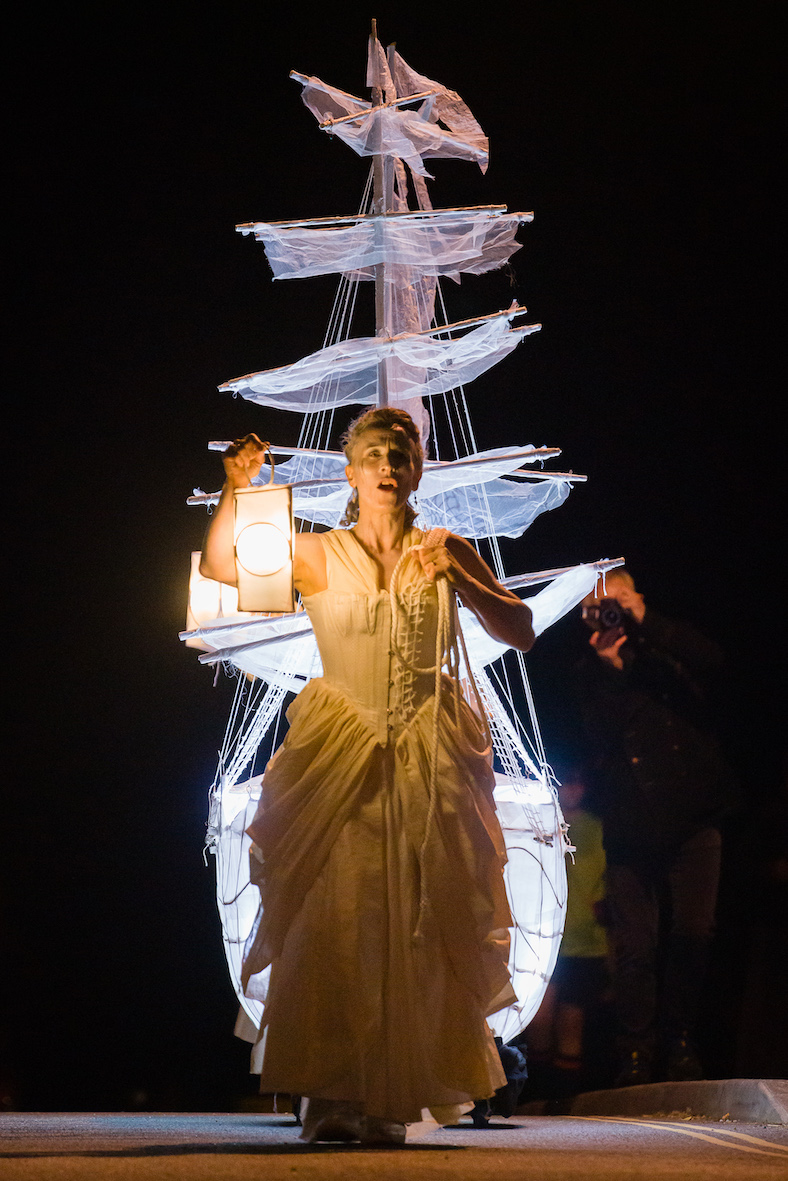 'The Hoss's Lament': a Random Act of Art for Kneehigh, 2021
A commission from Anna Maria Murphy & Kneehigh Theatre for their wonderful Random Acts of Art. Inspired by Anna's own story about a real ship, wrecked off Mevagissey in the 1800s, I recreated the ghost lantern barque 'Hoss' and 'sailed' her around the streets & quays of Mevagissey at dusk one evening in March 2021, visiting the ship's lost timbers on the King tide of the year. The Hoss was accompanied by a weathered old ship's figurehead (me), singing her lament to lost things, written by Carl Grose & Jim Carey, and co-sung on the night by drowned girl and able shipmate, Jenny Beare!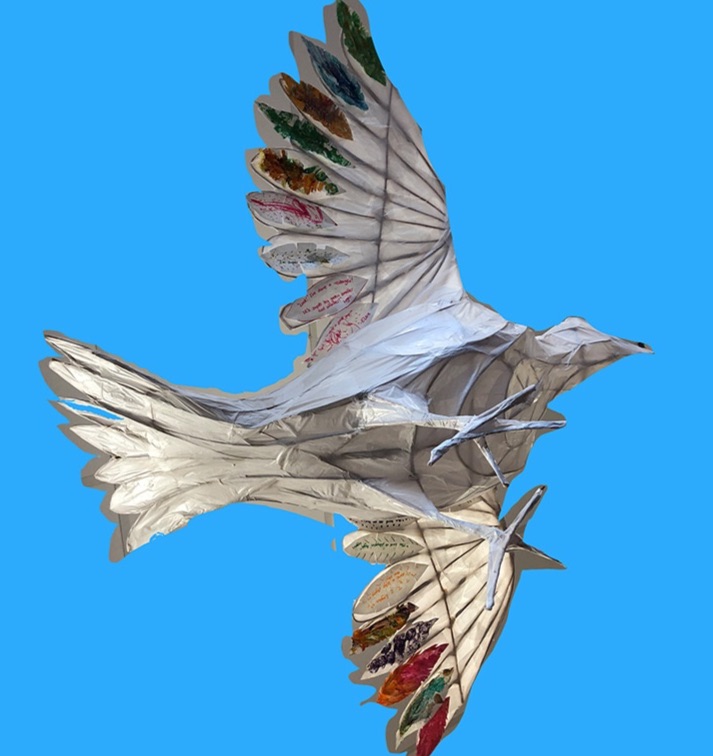 The Word Bird, 2020
I've been working with Sally Crabtree for several years on developing innovative creative literacy ideas around the theme of birds and words - a combination we are both inspired, thrilled and excited by! As part of this work, Sally commissioned me to create a Word Bird for a nursery-based creative literacy project she was delivering in Penzance in early 2020.
Sally says: "The Word Bird has helped raise levels of literacy in the very young children, who were charmed by it - as were the adults - and it has inspired them to create poetry that amazed everyone and helped the nursery become 'Outstanding' in their Ofsted review!"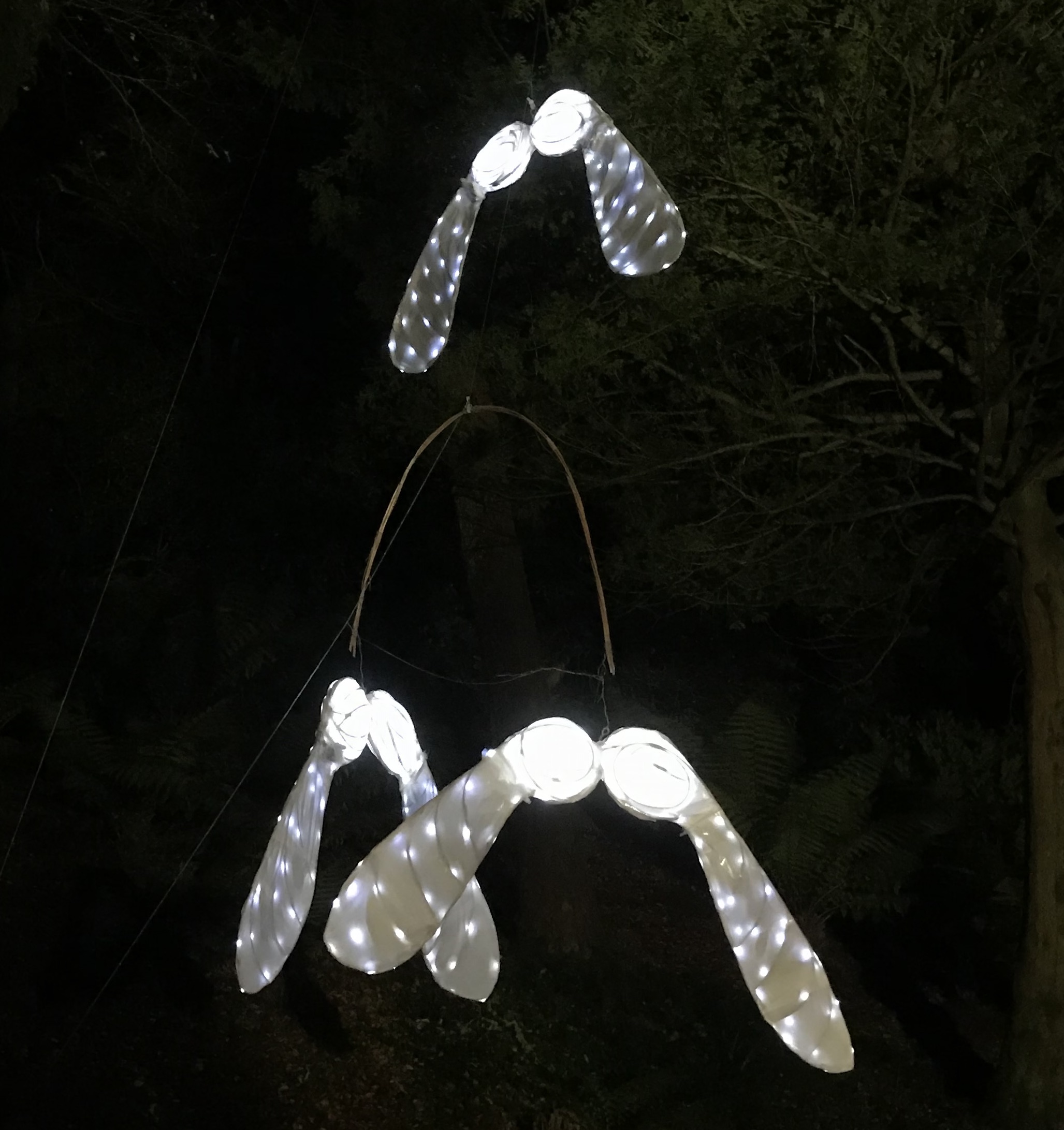 Trebah Garden of Light 2021
The Trebah Garden team invited myself and Tony Crosby to be lead artists on Trebah Garden of Light in 2021. We co-curated a small team of artists to experiment with light and play with scale in the beautiful garden setting. The group produced an array of delightful new work to captivate visitors to the night garden over two magical winter weekends. I floated a giant swan on the lake, installed a tiny tallship on a pond in the Water Gardens, and hung huge seed pods and sycamore seeds in tall trees to twirl gently in the breeze.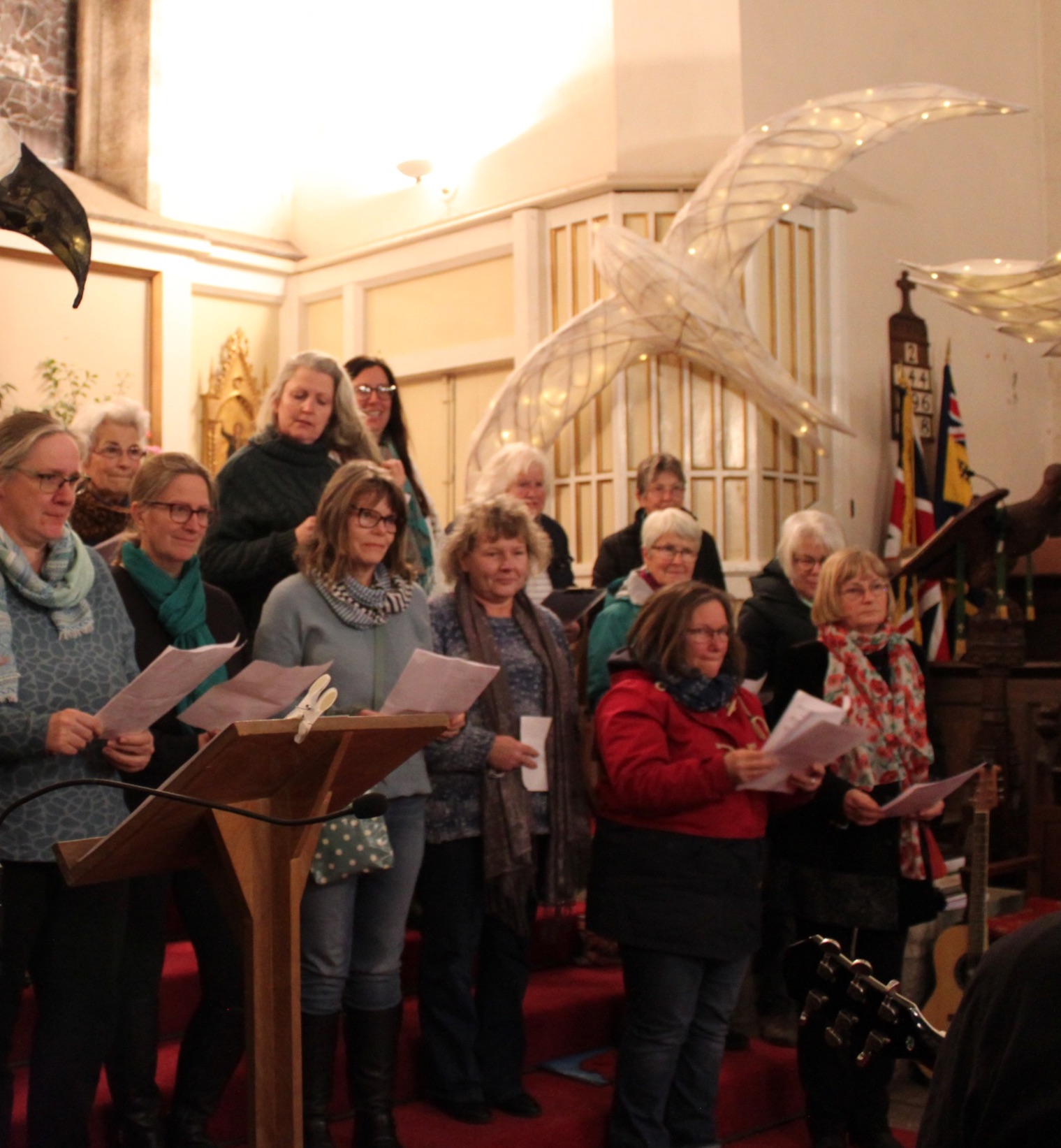 'A Wider World' Island Light Festival, ARTiculate 2022
A wild & wonderful Island Light festival was had this winter by the community of Scilly. We worked with hundreds of local people of all ages to create migratory, bird themed lanterns both large and small (I led on a giant Swift build with the students); we enjoyed new musical elements with our collaborators, Wilderness; and finally we held a grand celebration in the Church after three storms hit during our festival fortnight!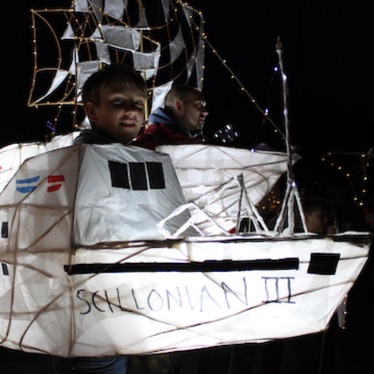 'Life Lights' Island Light Festival, ARTiculate 2020
'LIFE LIGHTS' was a fantastic 2-week ARTiculate community arts residency on Scilly in Feb 2020, celebrating the Islands' unique heritage of saving lives at sea. We conceived and delivered a project which involved hundreds of Islanders in a full week of school activity and another of community workshops, creating exciting wearable & portable processive builds (including the Tallship & Scillonian III here, which I designed and led on) for our final magical parade - and an impressive celebratory cake-led finale! Full info & photos on the
ARTiculate website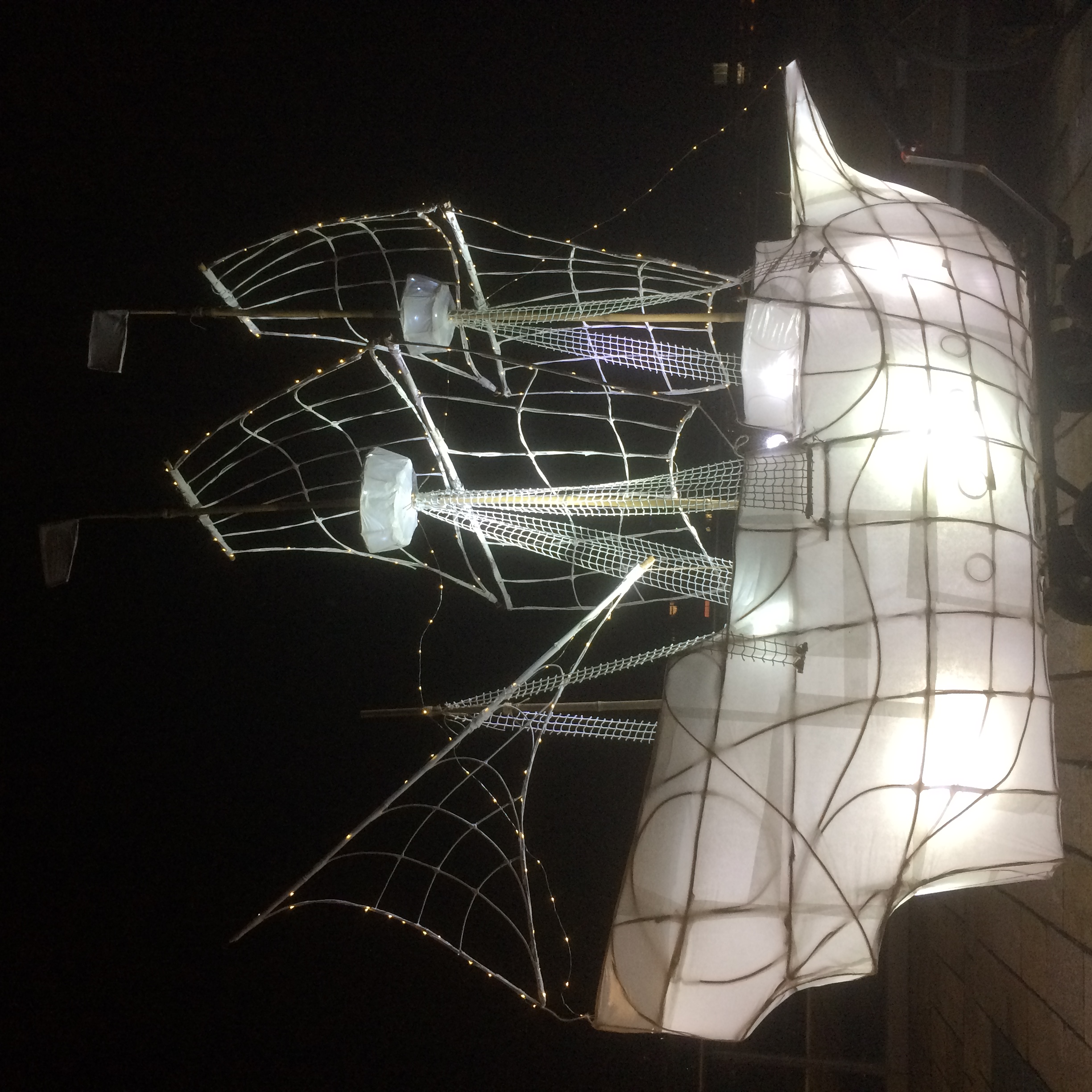 Voyager, Illuminate Plymouth 2018 & 2019
I won a commission to build my Illuminated 3m tall Mayflower ship lantern design for the Illuminate Festival Plymouth's first Mayflower 400 celebrations in Nov 2018; and was invited back again with a revamped and enhanced Mayflower for 'Voyager'at Illuminate 2019.
The ship is built on a trailer, towed by bicycle, which 'sailed' around the streets of Royal William Yard, interacting with the public at this hugely successful festival of light.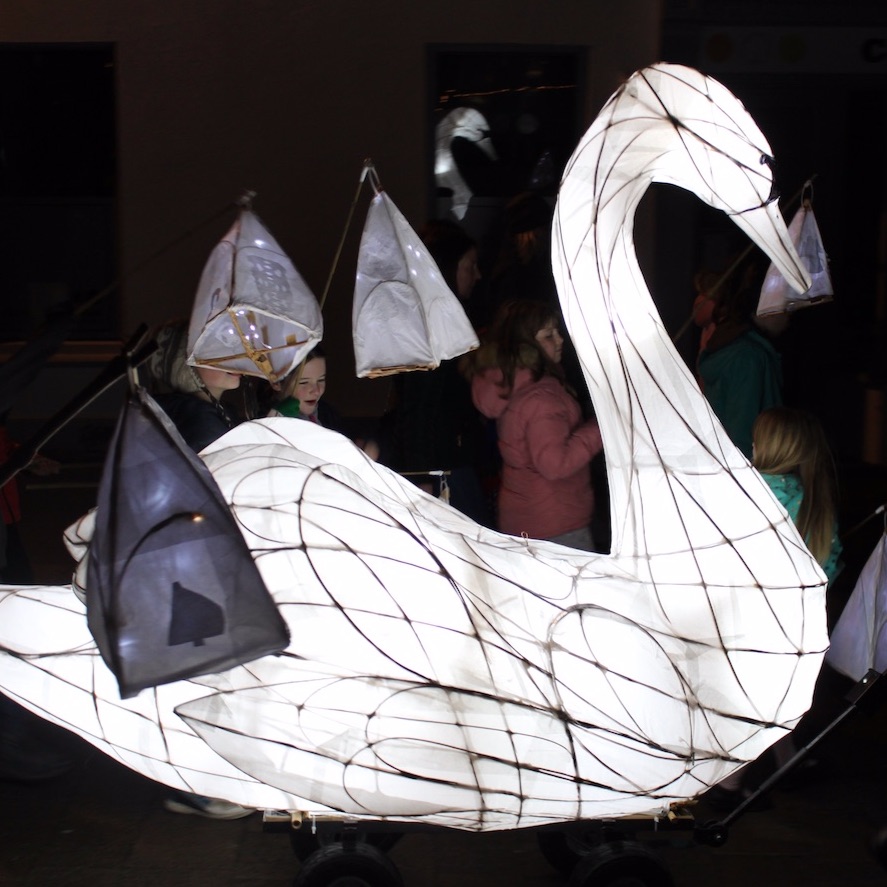 Wadebridge Christmas Wonderland 2019
I was approached by Wadebridge Chamber of Commerce to produce and manage the arts content for their first ever Wadebridge Christmas Wonderland Procession in 2019. This included designing and creating this giant Swan, leading schools carry-lantern workshops with 85 Year 4 and Year 5 children across two Wadebridge schools; and running a free, on-the-day community workshop, creating themed willow illuminations to carry; as well as managing all the final creations in the procession on December 14th!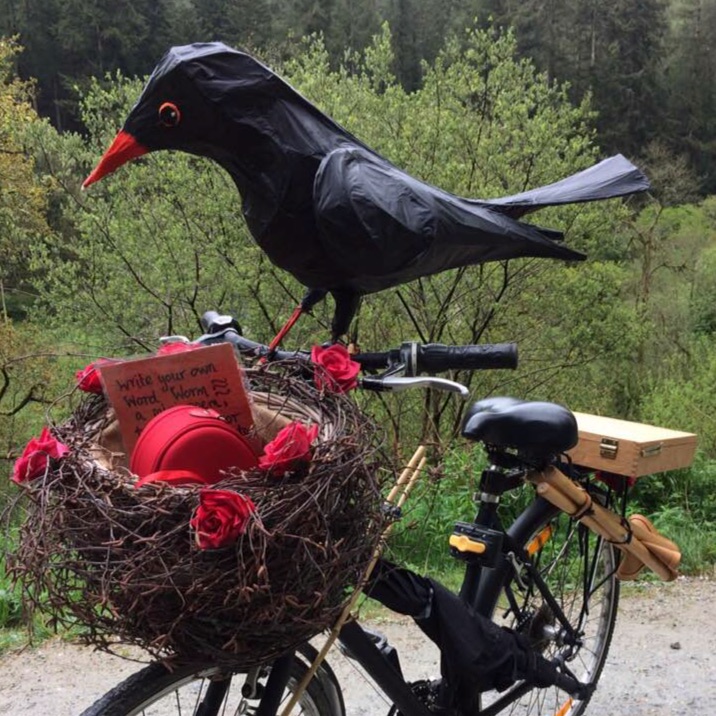 The Early Bird & the Word Worms! Words In Woods 2019
For the inaugural Words In Woods Festival organised by IntoBodmin & KEAP at Cardinham Woods, I created a processive character - The Early Bird - and her 'Word Worms' roving mini-poetry workshops, delivered out in the woods from a special set-up on the back of a bicycle. The Early Bird is a lovely advocate for our wild birds and their natural habitats, encouraging awareness and involvement in environmental issues through the arts, for all ages.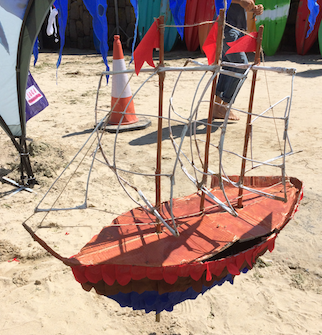 The Galleon PinARTa, Sea Salts & Sail 2018
I loved making this beautiful Galleon 'PiñARTa' for Sally Crabtree at the Sea Salts & Sail Festival in Mousehole in 2018; I ran two days of workshops in a tent on the beach, inspiring children & families to create mini artworks and poems to fill it with, before we bashed it and shared the art, poems and sweets out each evening! Commissioned by Sally Crabtree and Word Voyages, this was also part of 'Dark Skies: Bright Stars' from Mayes Creative.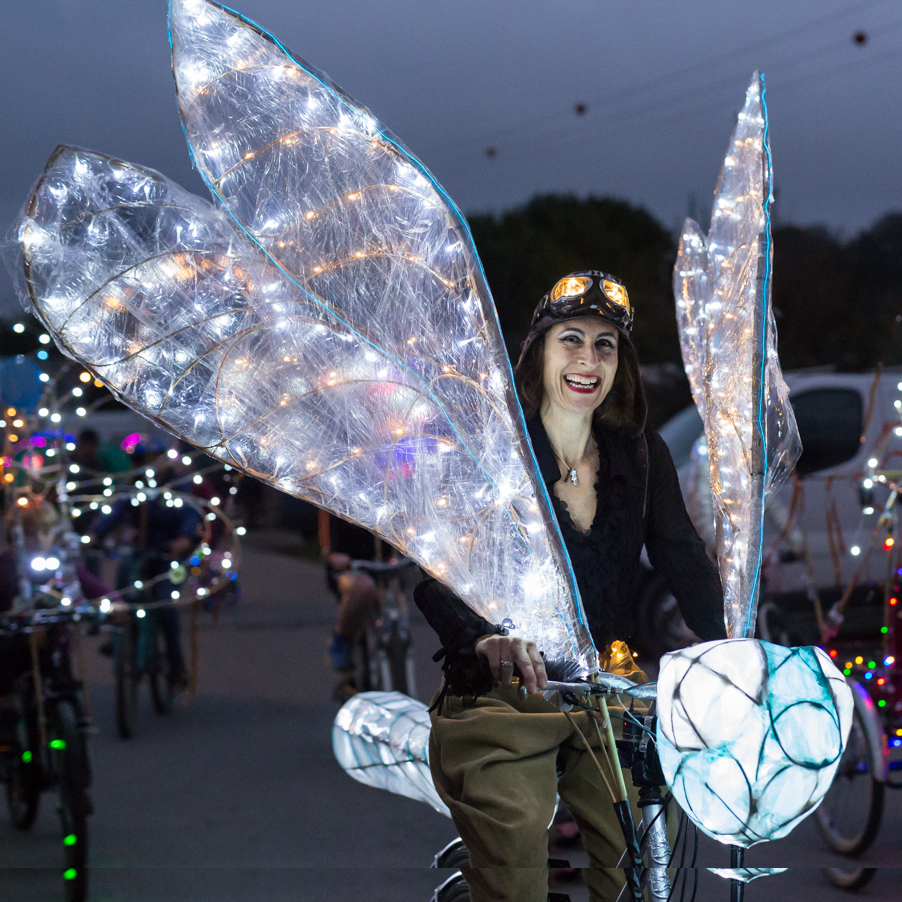 The Damselfly & Aviatrix, BikeLights Minibeasts 2017
The BikeLights team invited me to create a 'MiniBeast' build for the themed 2017 procession, and this idea for a Damselfly built around a bike frame was born, piloted by her Amelia Earhart-style Aviatrix. I also worked as an artist on the 'on-the-day' workshops for the first time, and helped coordinate materials for the festival workshops, before being invited to get involved in the producing side of things the following year.
Tyrannosaurus Rex, City of Lights 2013
My largest & most complex lantern build was this T Rex for City of Lights 2013, created in The White Building at Truro College where I was City of Lights artist-in-residence for that year, being very pregnant. The lantern had 13 separate moving parts and took 9 people to carry it and help work its head, tail & jaws. BBC Radio Cornwall were my brilliant chief lantern bearers on the night, which was really windy!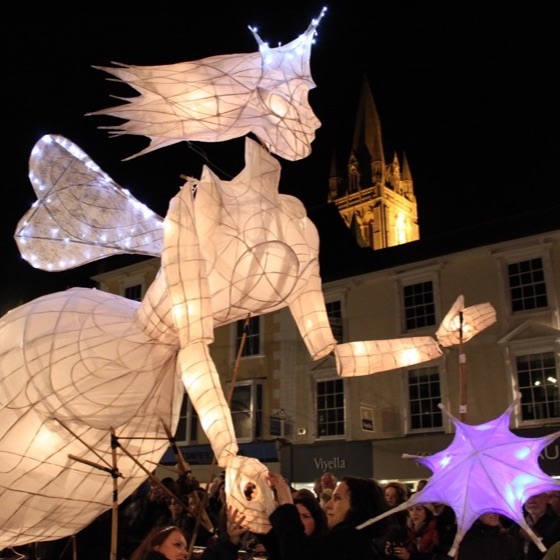 Faerie Queen, City of Lights 2012
I created this giant Faerie Queen lantern commission also for Truro City of Lights in 2012 when she got to be the lantern who 'switched on' the city's Christmas lights during the event. This lantern had an extra lease of life as she was also chosen for year-long display in the lovely atrium space above The Lander Gallery in Lemon Street Market, Truro, from Nov 2012 - Nov 2013.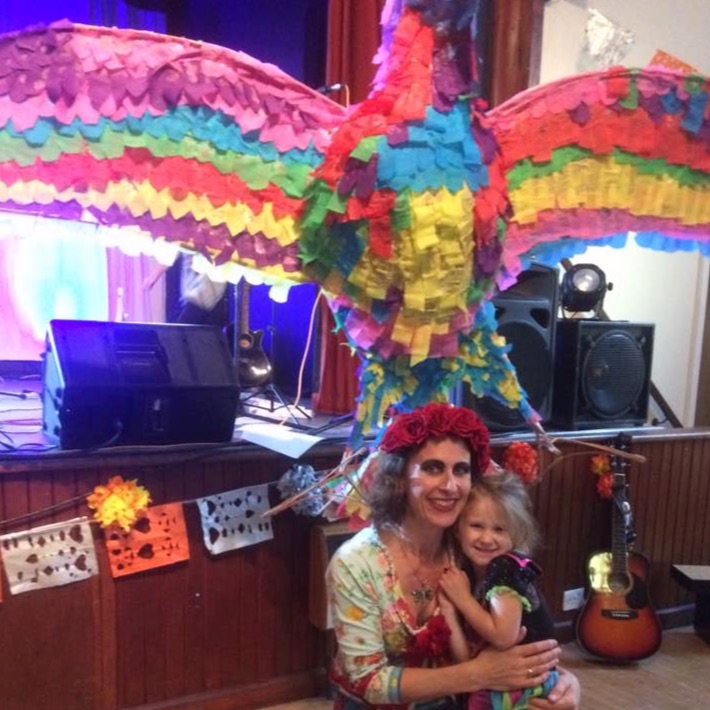 Condor piñata, El Dia de Los Muertos 2017
Time To Shine - the creators of the Wadebridge 'El Dia de Los Muertos' 2017 event - approached me to create a giant Condor Piñata and to run family & community workshops to decorate the build, before hosting a grand 'bashing' of the bird, and of course a sweet-sharing, at the end of the afternoon!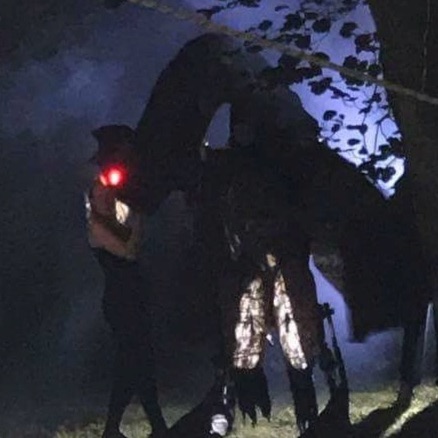 Jabberwocky, Wonderland at 10 Acre Wood 2017
I created what I imagined Lewis Carroll's Jabberwocky to look like for 'Wonderland at 10 Acre Wood' site-specific theatre in 2017 - a large, stilted character, with huge black wings, a scary long neck & removable head with red glowing eyes, built on a backpack frame.
As I knew how to rig, wear and work the costume, I also had a lovely time training up in stilt-walking and performing the role in the shows, as well as singing backing harmonies when not dres
sed as a Jabberwocky.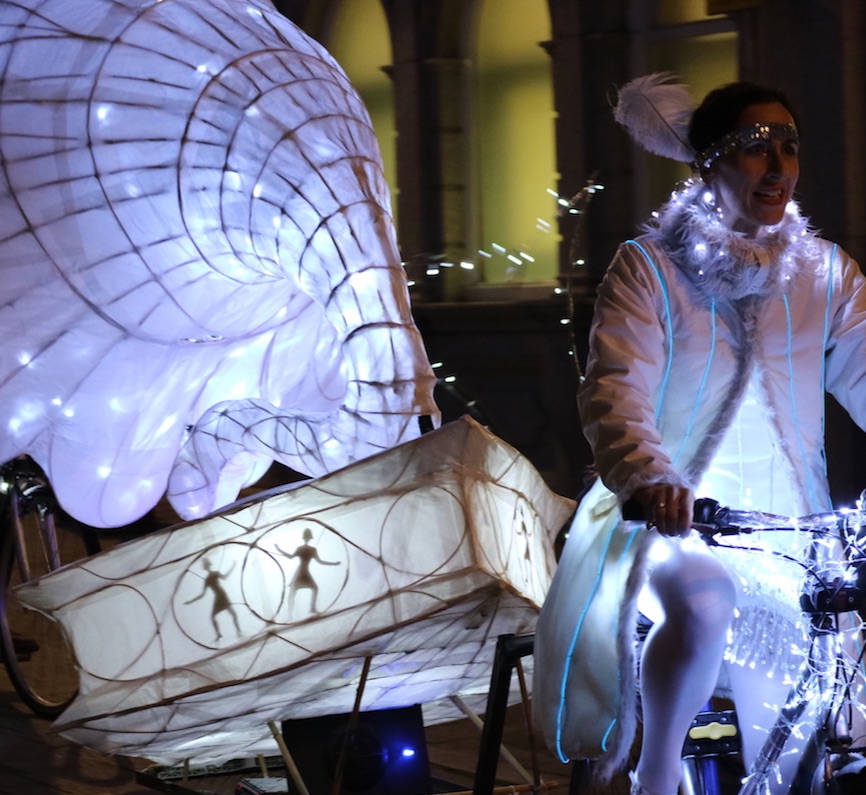 The Glamophone & Muse! BikeLights 2016
Variously inspired by His Master's Voice, The Spirit of Ecstasy and all things 1920's, this giant 'Glamophone', complete with dancing shadow 'flappers', and an accompanying, highly-lit Muse, was conceived, created and performed for the Wadebridge BikeLights festival for its 2016 theme, Marvellous Machines!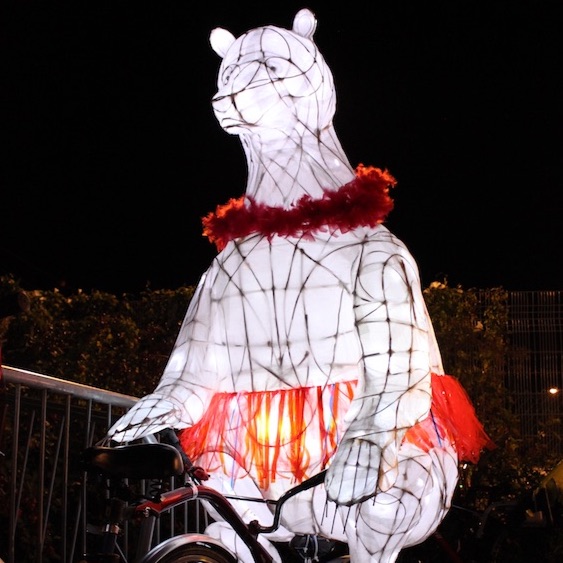 Cycling Circus Bear & Ring Mistress, BikeLights 2015
'Circa Ursa Major' was an off-the-wall commission idea for BikeLights 2015, whose nicely vague theme was 'Circles and Cycles'... they went for it, and to my own great surprise I managed to make a life-sized circus bear who actually cycled, built on a Tag-along being cycled by her red-coated, top-hatted ring-mistress to keep her in check!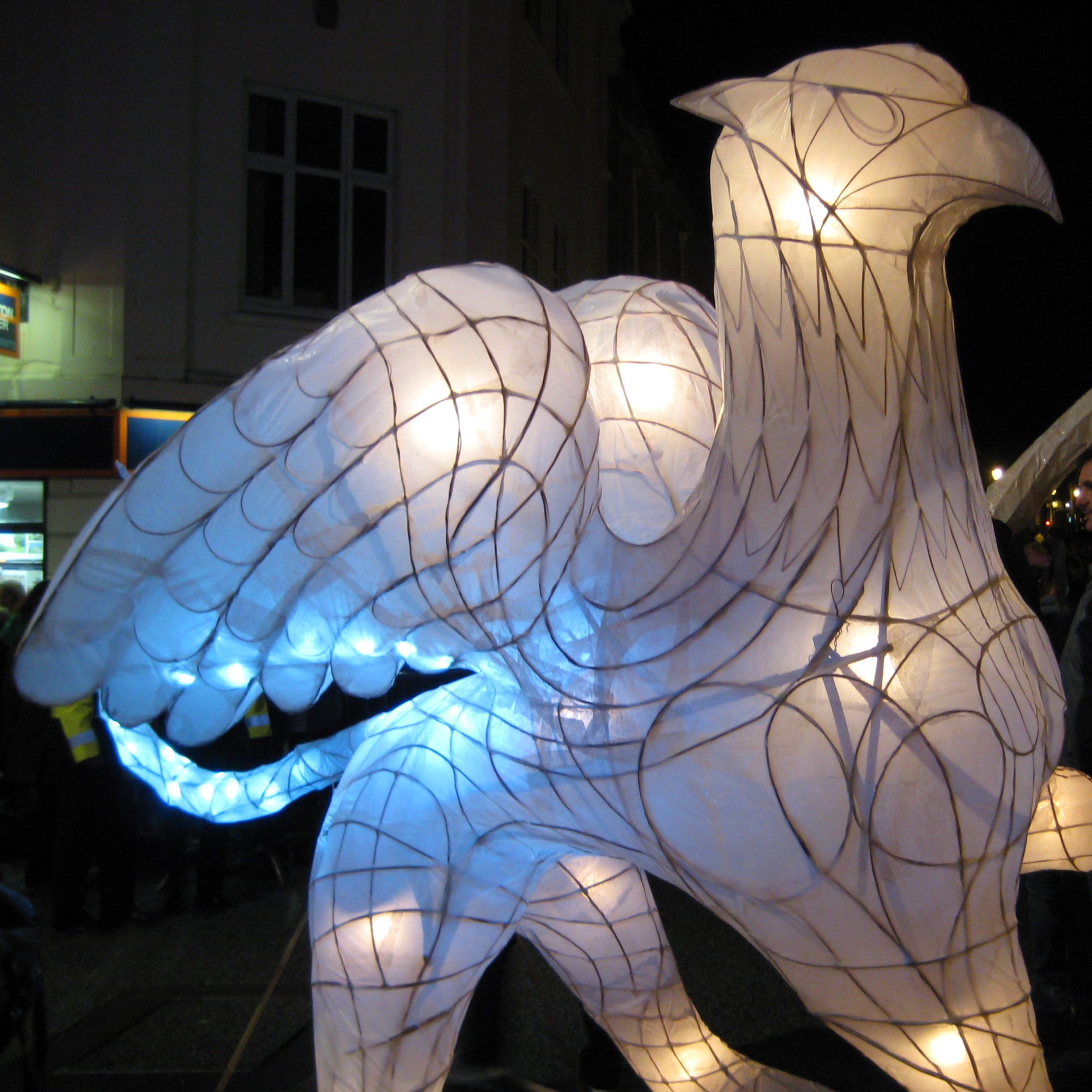 Gryffon, City of Lights 2010
This Gryffon made for City of Lights 2010 was a big hit with all the kids, who thought he was Buckbeak the Hippogriff from Harry Potter! The lantern was lovely to make and was also chosen for a year-long display in the Lander Gallery atrium space in Truro from Nov 2010 - Nov 2011.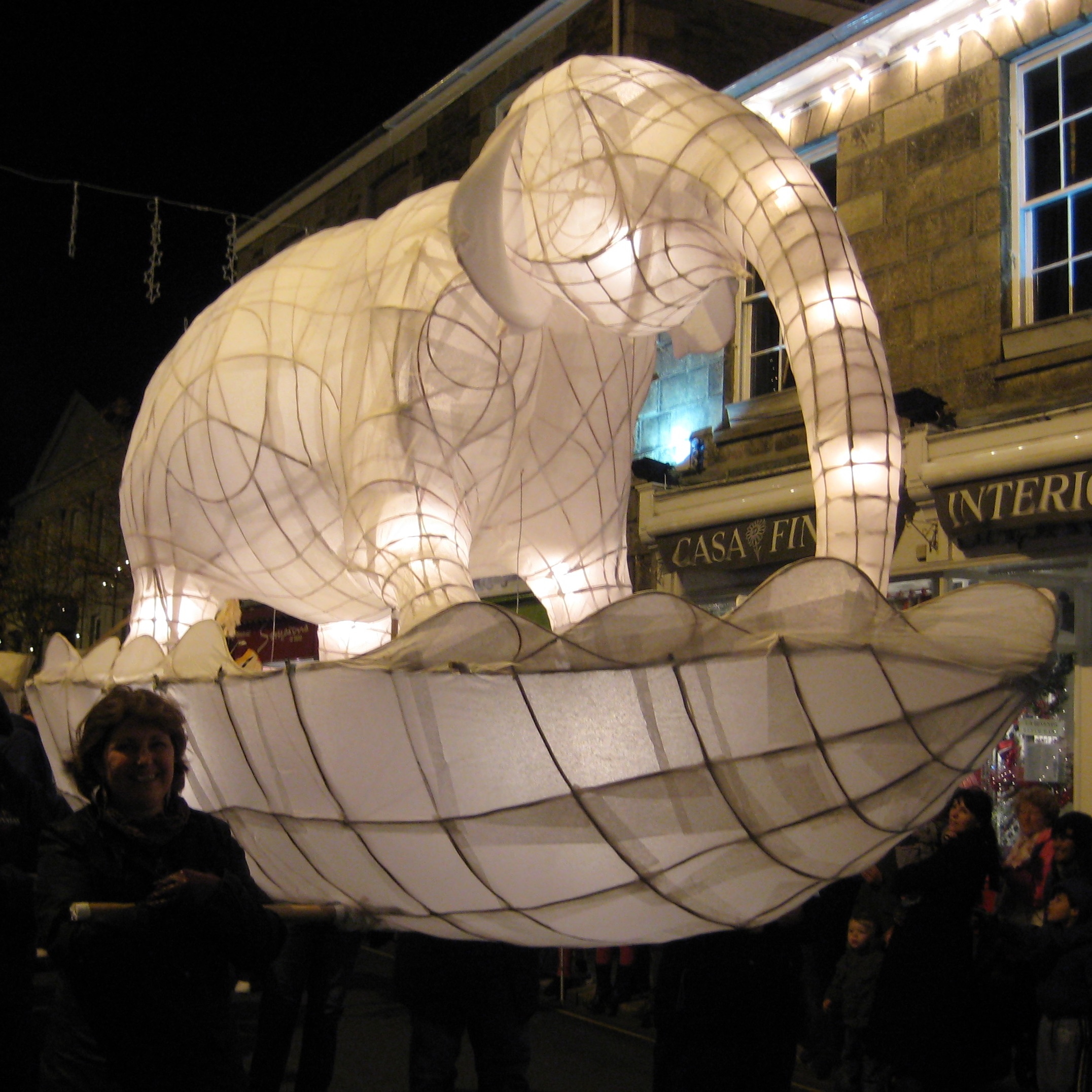 Elephant, City of Lights 2009
'When The Circus Came to Town' was my first build for City of Lights in 2009 - and my first large lantern build ever! I was thrilled when it was chosen for a year-long display in the atrium at the Lander Gallery, Truro from Nov 2009 - Nov 2010. It also enjoyed a new home for a time at the Port Eliot Estate, St Germans, whose emblem is, of course, an elephant! I also recently learned that it eventually ended its years as a special guest of Meva Feast!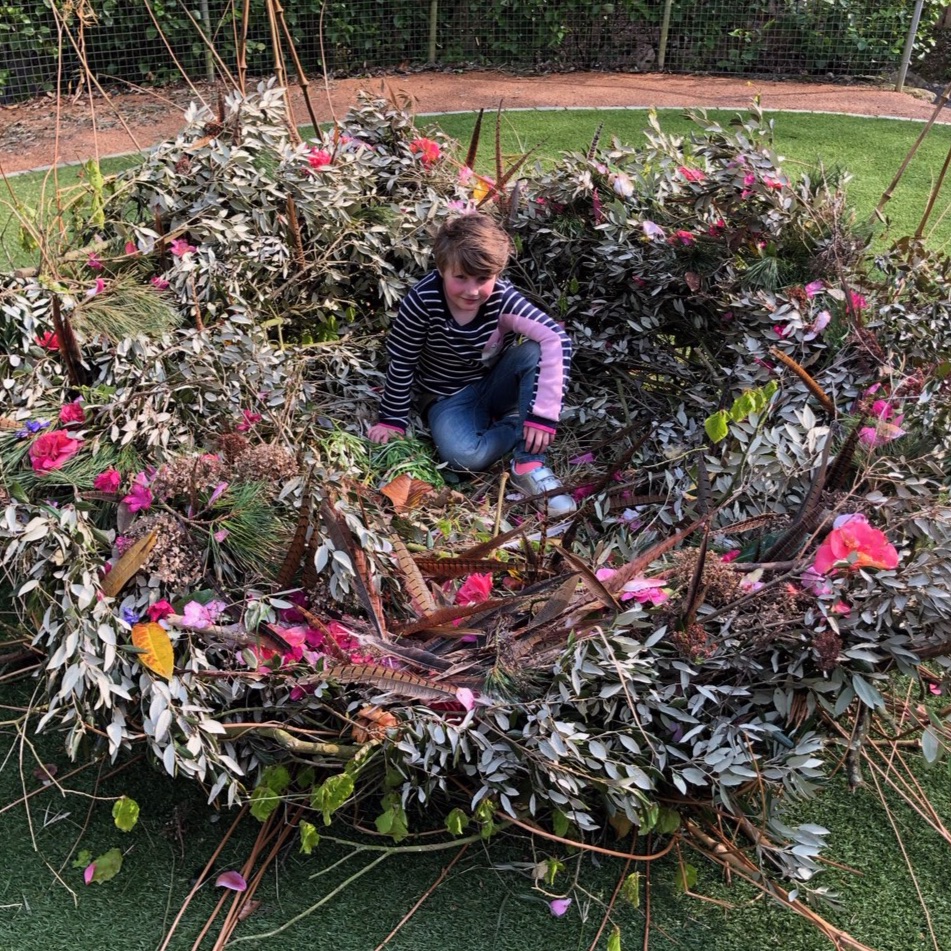 Trebah NestFest 2019
This giant nest was created during Trebah Garden's Easter festivities for 2019. Using cut branches & greenery collected by the Trebah Gardening team, working with visiting familiies I crafted the nest during one lovely busy day. Another artist workshop ran the following day to decorate the nest with flowers & feathers from the Gardens; this is the beautiful collaborative result!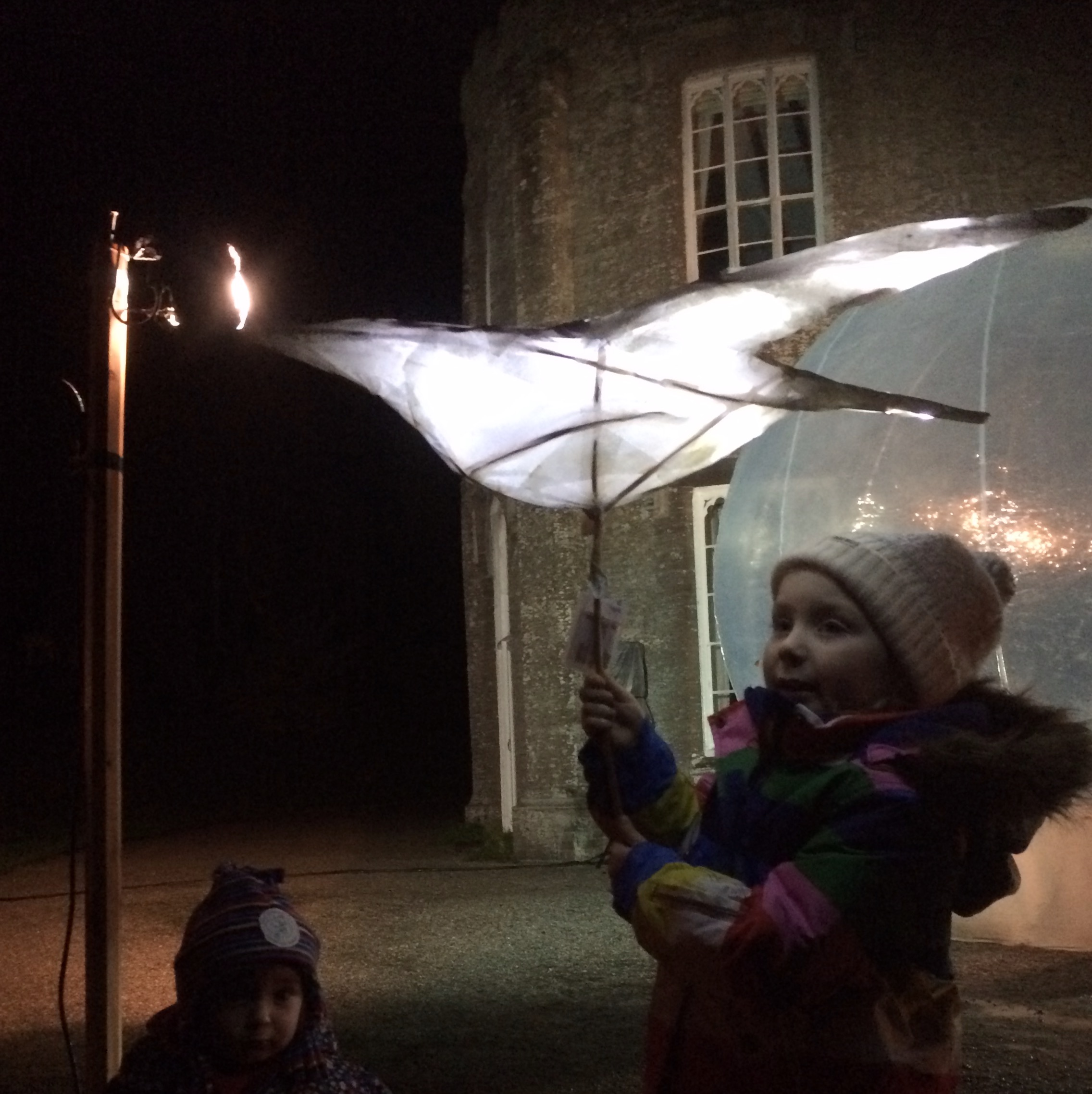 Prideaux Gulls 2017
I was approached by DR2 and Simon Birch Company to create willow gull lanterns for use as props and on set during the Prideaux Angels site specific theatre performances at Prideaux Place in winter 2017. Working with a community group in Wadebridge and a school group from Calstock in South East Cornwall, we created around 30 beautiful illuminated gulls, which appeared throughout the show's run.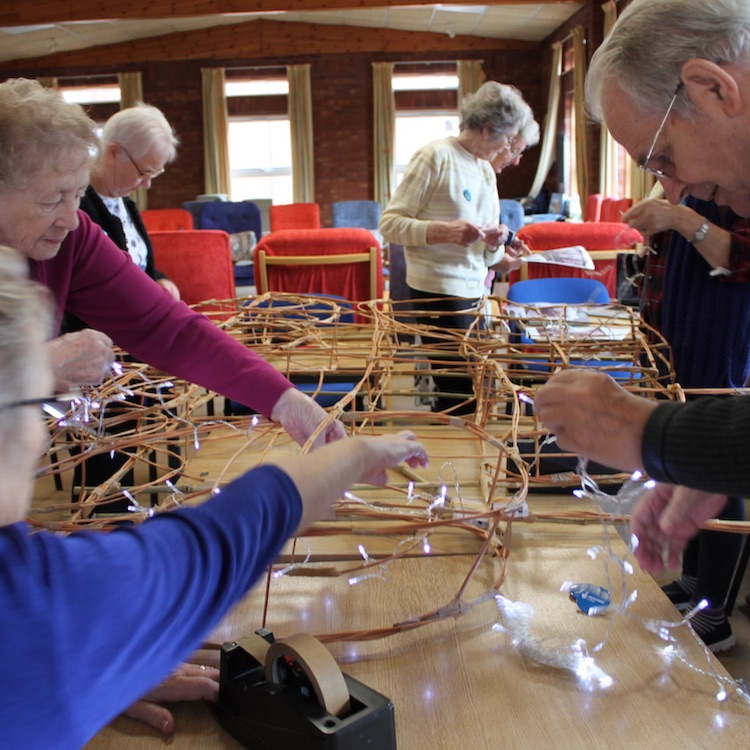 community workshops
Community activities and workshops I've also run include:
Tall Ships & Tall Tales at Sea Salts & Sail 2022: a whole weekend of community arts workshops and Crankie storytelling antics for all ages on the beach at the gorgeous 2022 Mousehole festival of the sea!
Luxulyan School at Luxulyan Carnival: large sculture creation and willow 'dream catcher/stained glass' workshops with the whole school for the 2022 carnival
BikeLights: community and intergenerational workshops with elderly & younger participants; and on-the-day open community workshops (image of a Wyndhurst Orchard workshop pictured) decorating bikes, scooters, walkers and wheelchairs for processions, 2017- present

Semaphore Stories: ARTiculate visual and story arts residency with Mayes Creative and Creative Scilly, May 2019

Willow creature workshops for Penzance Library as part of Penzance Arts Week, summer 2017

Frida Kahlo painting workshops with adults & older children at the Callington Arty Party for Pentreath Ltd, 2017
Boscastle Festival sea-themed open community 3D sculpture workshop weekend, culminating in two mini-processions, 2015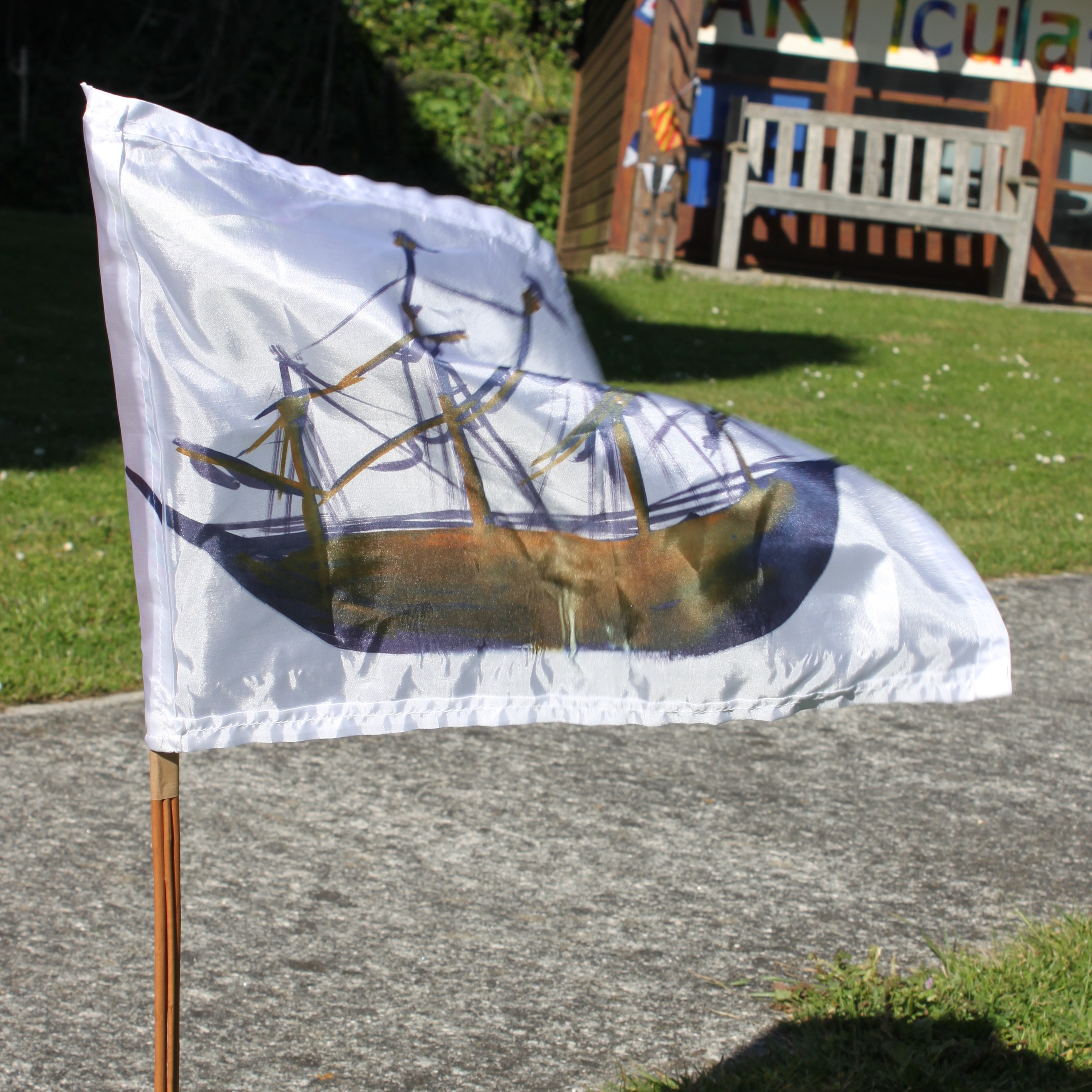 Boscastle Arts: lantern-making willow workshops for adults and children, Duck Race Day festival July 2015
Mussels on the Fal: artist residency & drop-in community workshops/installation with ARTiculate for Fal River Fest 2013
Truro City of Lights: lantern-making workshops in Truro schools 2009, 2010 and COL artist in residence Truro College 2013
Chance & Change: community art & dance workshops in North Cornwall with dancer Gemma Kempthorne 2010
Shadow Stories, North Cornwall: story creation, character & shadow play residency 2009
Hidden Worlds: NCAN combined arts residency with Tony Gee and The Moveable Feast Co: Gaia, 2009

schools workshops
Schools activities and workshops I've also run include:

Schools arts week working with Five Islands Academy on St Mary's & St Agnes, Isles of Scilly - part of the LIFE LIGHTS Island Light Festival residency with ARTiculate, Feb 2020
BikeLights: community workshops programme delivery for illuminated processive projects in Wadebridge & Bodmin, 2017 - present

Story Box: creative story arts workshops for Endelienta with St Minver CP School and Open The Book group, 2017-18

Willow Bees sculpture workshops with Year 2 Wadebridge Primary Academy, 2017 (pictured)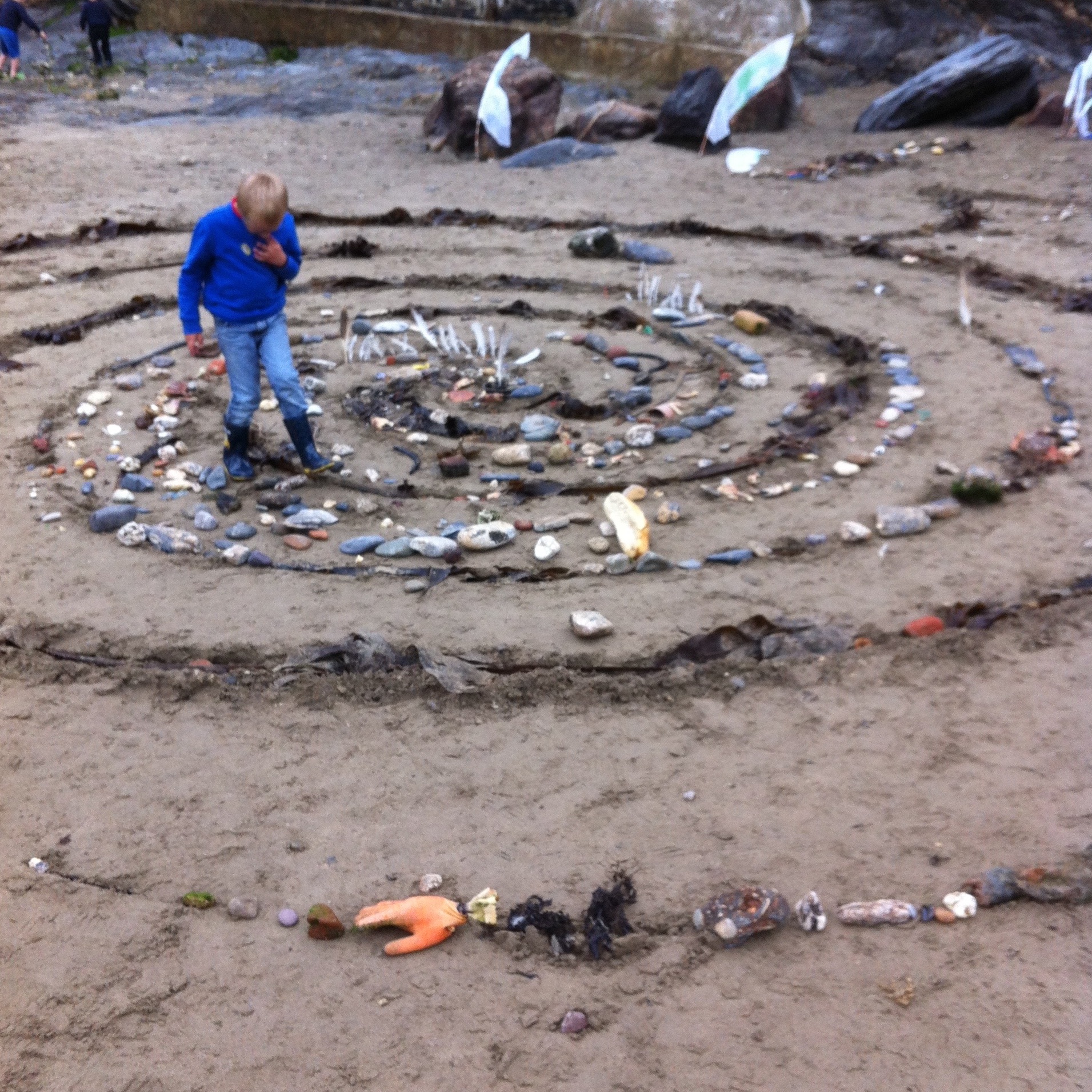 Giant Christmas gift: build and willow workshops with nursery and Reception classes, Wadebridge Primary Academy, 2016
Magical Spirals: beach sculpture workshops with Port Isaac & Boscastle Schools for DR2, 2015 (pictured)
Truro & Penwith College Artist in Residence at The White Building for Truro City of Lights, 2013
Truro City of Lights: lantern-making workshops in Truro schools alongside large builds, 2009 & 2010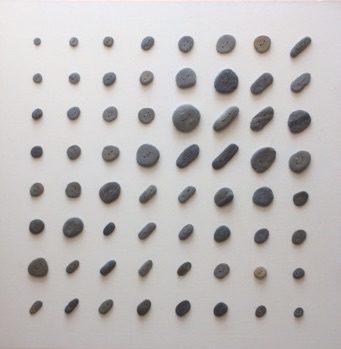 exhibitions, expositions
2D exhibitions in recent years include:
WOOD+GREEN Wadebridge: exhibition & sale of 2D and photographic works, 2018-2021
TubeStation Polzeath: exhibition & sale of works, 2017-2018
Mussels on the Fal: with ARTiculate artists in residence at Fal River Fest on the King Harry Ferry, 2013

Paper Scissors Stone: 2D mixed media works selected for exhibition & sale of works Lander Gallery, Truro 2011

Le Temps Du Sirens: works selected for international Biennale of 42 women artists, Lorient, Brittany, 2010-11

Festival Interceltique de Lorient, Brittany: artworks and photography representing Cornwall's visual arts alongside one other artist at prestigious 39th International festival, 2009