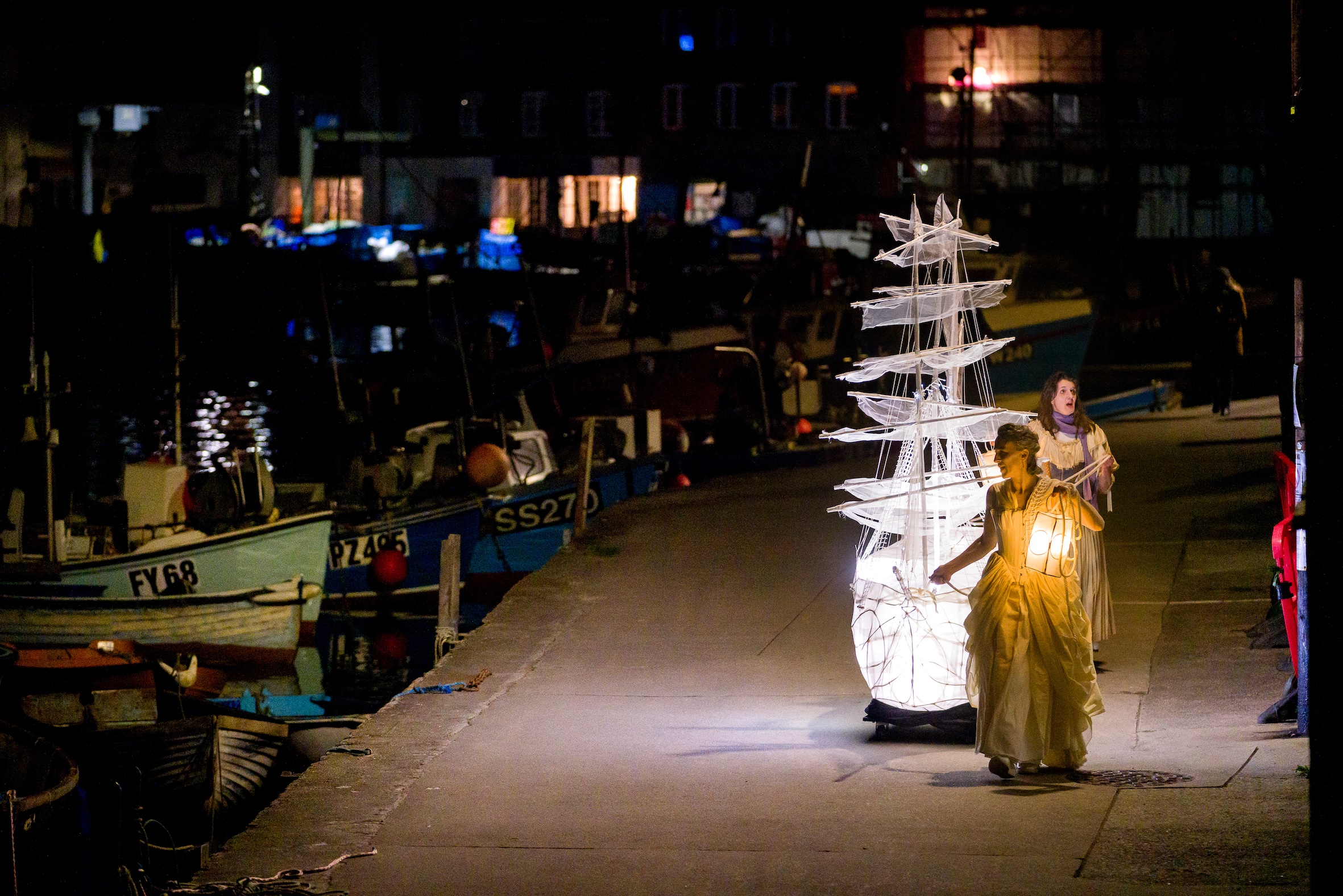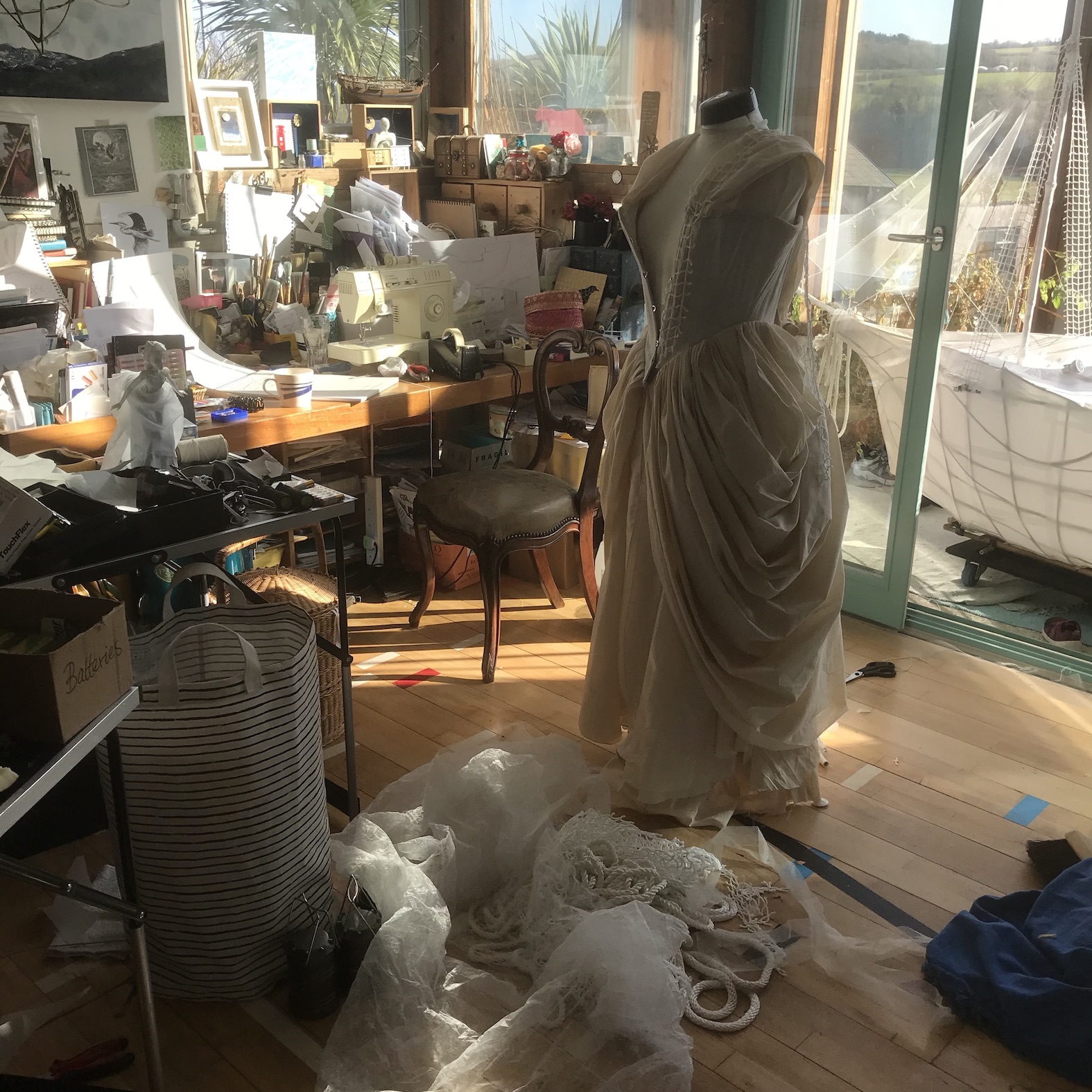 In the studio
This is where I'll share current ideas, plans, insights, work in progress, or things that might have just happened and are still fresh in my mind and in the studio.
I'm always interested in other artists', writers', theatremakers' creative processes, and their work spaces; so I thought I'd begin sharing a little of my own just in case you're interested too.
I work in my home studio in North Cornwall with a view of the tidal river Camel and a very busy desk. When I'm in the middle of a build or a large project it can get quite chaotic, in a creative way!
What's going on right now? Among other things...
Early stages: Getting the word out: Developing Your Creative Practice - a seven-month writing- & word-rooted arts project.




In process: completing and evaluating the last stage of the FIRE & STEAM arts & heritage project & website with Wadebridge Creative Hub.




In process: planning and fundraising on the next stage of ARTiculate's Island Light Festival and action research / development across the Isles of Scilly and with North Cornwall schools, 2022 and beyond.




Just completed: 'The Hoss's Lament' performance & lantern creation, which helped launch Kneehigh Theatre's Random Acts of Art.




What I'm thinking about: amongst other things - tallships; possible artistic

connections between coastal communities in Devon, Cornwall and beyond... Also, things. Stuff. Objects. Our connections to things...




DYCP: getting the word out
I'm thrilled to be embarking on a 'Developing Your Creative Practice' project supported by Arts Council England that runs from now until the end of 2021. After COVID delays finishing another project, I've now begun the work in tandem with the tail end of the other project, and am looking forward to being fully immersed in it soon as planned.
The impetus for this was born during the first lockdown, when I found a way to tap into my own creative ideas and connect to some powerful inner resources through words and writing, along with identifying a need to deepen and re-shape the ways in which I work.
Having the luxury of paid time now, first to write in an immersive and multi-site manner, and then to work with diverse practitioners in film, music and radio to produce the project's outputs, I believe this process will focus, channel and shape my future path, helping establish a whole new way of working that will provide the real torque to drive the next chapter of my work.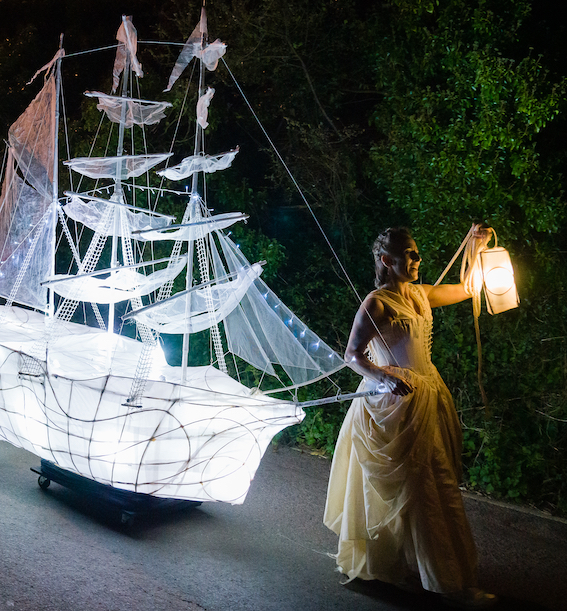 The Hoss's Lament
Anna Maria Murphy asked me in February if I might be up for creating a Random Act of Art as part of
Kneehigh's 4
0th birthday celebrations, after seeing photos of some of my roving lanterns on Facebook. Of course, I said yes!
Inspired by Anna's own story from
the 'Walk With Me' Kneehigh project
about a three-masted barque called the 'Hoss', which was wrecked off the Mevagissey coast in the 1800s
,
I came up with the idea for 'The Hoss's Lament' - a walking work of art brought to life on the streets and the quays of Mevagissey, COVID be damned, as a gift from Kneehigh to the village where the company was born.
I imagined the ghost 'Hoss' sailing through
the village
at high tide, visiting all its lost timbers (which had been salvaged by locals after the wreck and used in building many of the village's homes); and while thinking about a character that could form part of the work, the idea grew of a weathered old ship's figurehead hauling the ghost ship through the streets by rope. Anna really liked this idea and then suggested that the figurehead (me) might sing a lament to the lost ship as she went along - and so the idea was complete! I loved creating the figurehead costume alongside the ship build, and learning a lovely new lament, with words written by Carl Grose and music by Jim Carey, which my able shipmate Jenny Beare and
I sang to the town on the night itself.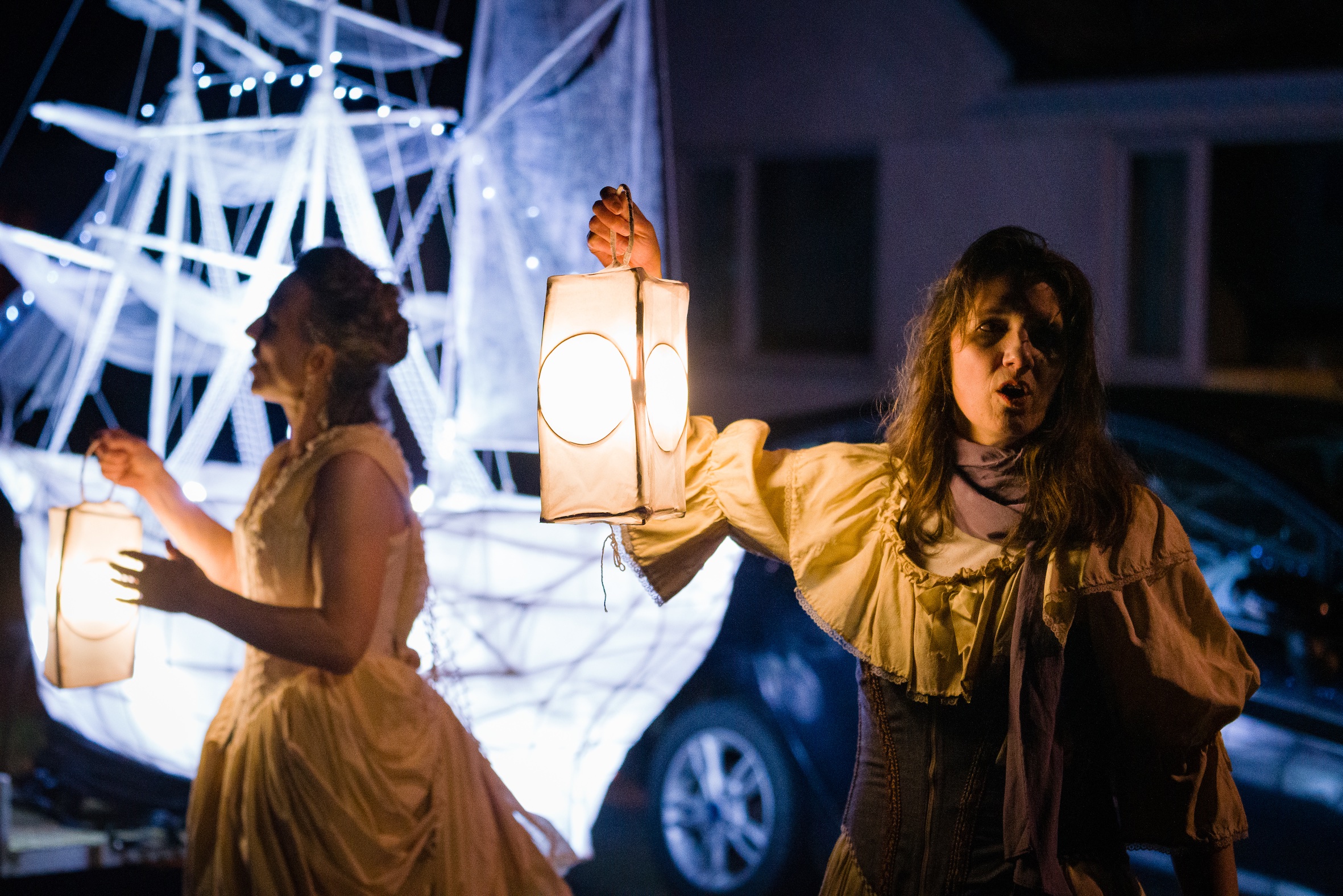 Tallships... I've been in awe of the sheer grace and majesty of tallships ever since I was lucky enough to go aboard the replica 'Golden Hinde' as a small child in North Devon, sparking a life-long love affair. I also had the fantastic experience of sailing around Cape Cornwall on the 'Matthew' in 2012, with my then 10 month old baby in tow.
I find these beautifully-crafted wooden ships unspeakably magical and evocative; and they are also lovely shapes to create in willow and light. They seem to crop up again and again in my work.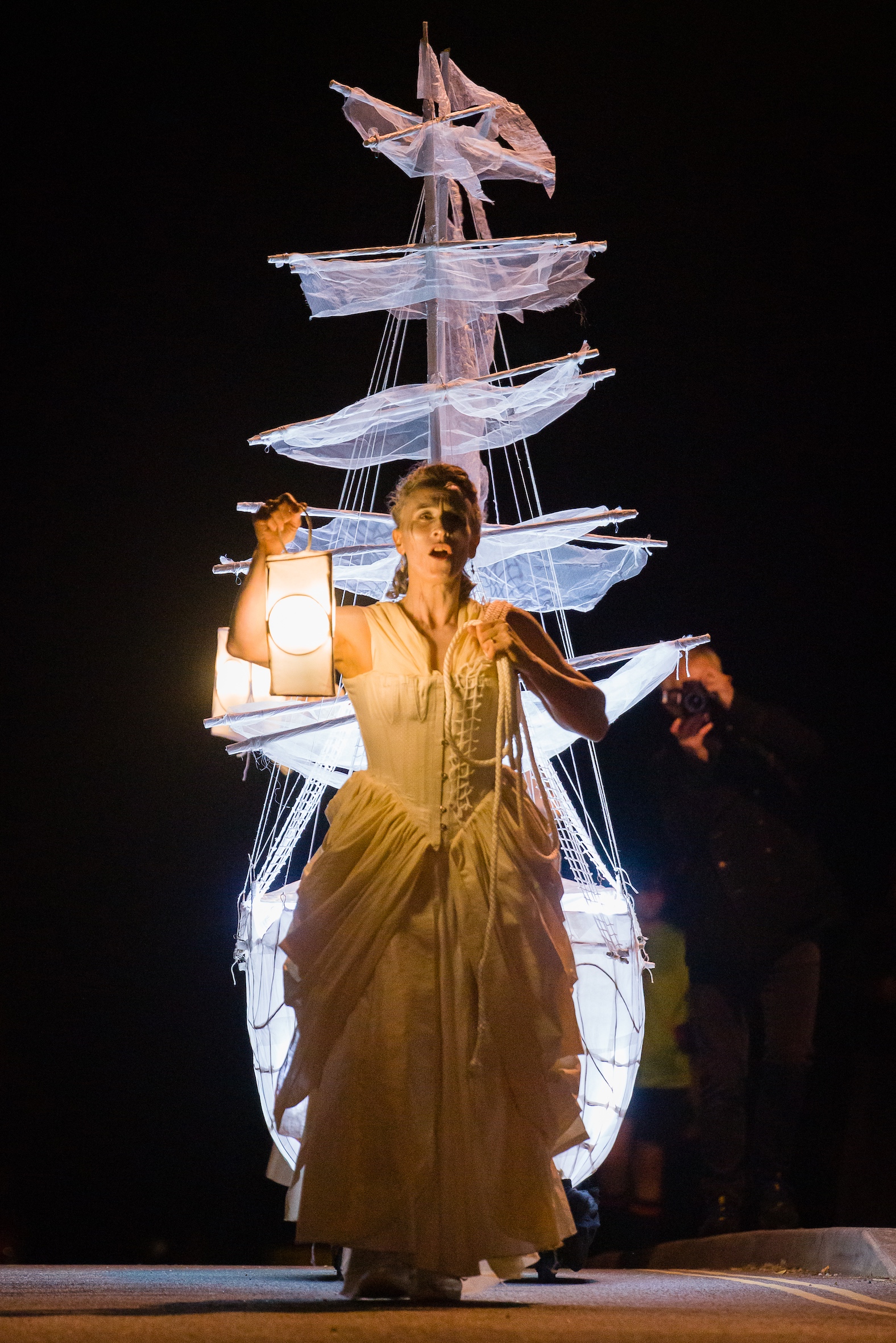 In harbours, ports and villages all around our coast, these ships would have been a common sight right up to the early 20th century. The gradual loss of these graceful old vessels means we somehow have less of that visual poetry on our coasts and in our lives. This has been such a lovely opportunity to be able to recreate a bit of that old maritime magic and evoke a bygone age, if only for a night... although the ship herself has stayed in the village, and will no doubt be reappearing at feast days and festivals when her sails are full.

I think we all need a bit of unexpected magic in our lives after the year we've all had, and it's been a privilege to be able to gift that to the people of Mevagissey, and
a true delight working with Kneehigh and the wonderful group of people who are the Random Acts of Art family. You can c
atch the other Random Acts at @WeAreKneehigh #RandomActs and r
ead all the Kneehigh blogs at https://www.kneehigh.co.uk.
Thank you to Kneehigh and Steve Tanner for these beautiful photos.
This piece of work has also sparked a set of new creative ideas, which I'm itching to get working on. I'm also now curious to see if there's an artistic work and connection to be developed between coastal towns or communities along the A39 or the Bristol Channel... more on this one soon.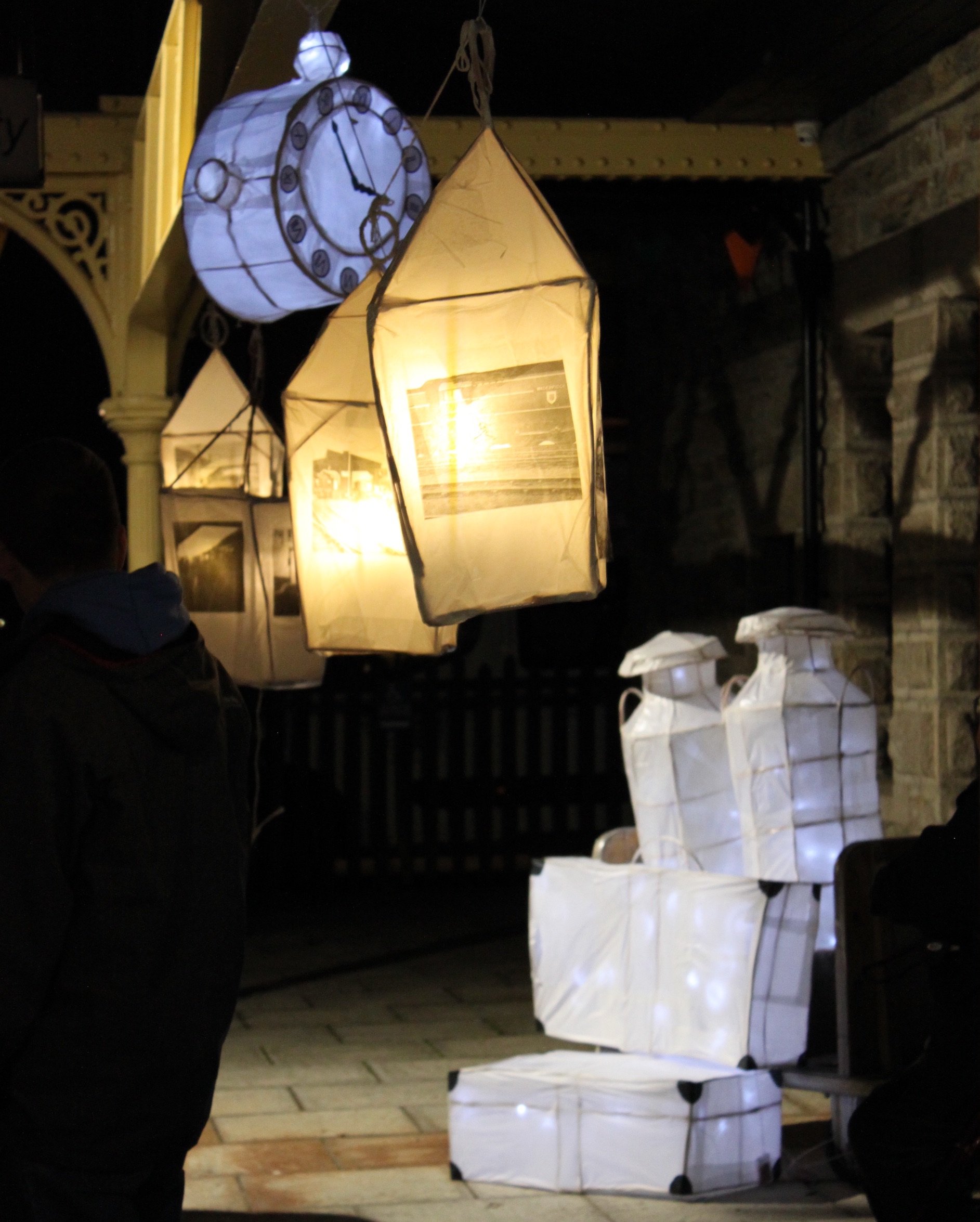 FIRE & STEAM
The last elements of this lovely arts and heritage project with Wadebridge Creative Hub and partners are now in their final stages! Having been delayed by COVID, the project is set to complete a year later than originally planned, in agreement with The National Lottery Heritage Fund, who are the project's main funder along with Arts Council England and FEAST.
As project producer I've been overseeing multiple strands, all set to complete very soon.
Designs for a special heritage trail map and guide with a projected 15K print circulation are now in the final approval stages; new displays for Wadebridge and District Museum and plaques for five different railway heritage sites are currently being designed ready for outputting and installation; and Year 8 students are beavering away on the Young Innovators strand, inspired by William Molesworth from the 19th Century and Grant Sinclair from the 21st Century to invent new gadgets at SIr James Smith's School in Camelford. We are also creating assets and completing the new project website; and lastly, the whole of Year 2 at Wadebridge Primary Academy are about to try out our specially authored cross-curricular FIRE & STEAM teaching pack all about the railway heritage of our area, and (the first of 4 schools to do this) enjoy a special visit to the actual steam railway at Bodmin!